Tibetan students protest, four more self-immolate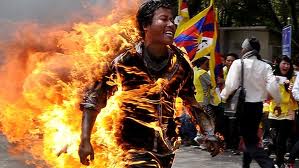 More than 20 Tibetan students were injured during a protest in the Qinghai province of China over a controversial book as four more self-immolations were reported taking the toll to over 20 in November.
The four self-immolations, according to overseas rights groups, occurred in Gansu,
Sichuan and Qinghai provinces on Sunday and Monday.
At least three among them two teenagers who self-immolated have died, rights groups said.
Teenage nun Sangay Dolmas died in Qinghai on Sunday. Kunchok Tsering, 18, and Gonpo Tearing, 24, died in Gansu on Monday.
More than 80 Tibetans have set themselves alight since 2011 in what activists say are protests against Beijing's hardline and repressive rule. Most of the cases have occurred in Tibetan areas outside Tibet.
The spate of protests suicides began in to the run-up to the 18th National Congress of the Communist Party of China (CPC) which named Xi Jinping as the Party's new general secretary earlier in November.
London-based Free Tibet said more than 1000 students took part in a demonstration against a newly published book that purportedly criticises self-immolations and suggests that learning Tibetan language has no use.
"It is believed that the protest was in response to a book published earlier in the year by the Chinese government that may have been recently given to the students. The book is critical of self-immolation protests and also belittles the use of the Tibetan language," the group said in an emailed statement.
The statement added that the protest was peaceful until the arrival of armed security forces arrived.
"It is unclear what happened next and Free Tibet has been unable to confirm the exact sequence of events. However, an eyewitness confirms that many students were injured and taken to hospital. Around 20 were hospitalised and it is believed that four required emergency treatment.
The Chabcha Sorig Lobling School is currently under complete lockdown and Chinese security forces have sealed the area," the statement said.
Travel restrictions imposed on journalists in the Tibetan Autonomous Region makes it difficult to independently verify information.
The Chinese government occasionally confirms the deaths caused by self-immolations but says the cases are usually caused by the individual's own problems. The government's ire is also directed to Dharamshala-based Dalai Lama, who Beijing says, is inciting Tibetans in China.
HT