Hezbollah warns against regarding Iran "as an enemy"
Hezbollah Secretary General Sayyed Hassan Nasrallah warned the Arab countries during the commemoration of the Shiite holy day, the Day of Ashura , against "befriending" Israel and regarding Iran "as an enemy." A possible reference to the growing distrust of Iran by the Arab community over its behavior towards the uprising in Bahrain versus the Syrian uprising.
Nasrallah was addressing his supporters that were gathered in Beirut's southern suburbs in a televised speech on Sunday.
While Iran is supporting the uprising in Bahrain it its supporting the rulers in Syria. Bahrain is a majority Shiite country ruled by its Sunni minority, on the other hand Syria is a majority Sunni country , ruled by its Alawite minority  , an offshoot of Shiites.
There is growing concern in the Arab world that Iran is increasingly spreading its influence among Shiites, uniting them across national boundaries under the theocratic flag of Tehran, destroying the integrity of Bahrain, Saudi Arabia, Iraq and Lebanon relying on the use of militant groups such as Hezbollah in Lebanon and the Shiite militias in southern Iraq to do its bidding.
Nasrallah also warned Israel that any Israeli attack against Lebanon would be met with far-reaching retribution.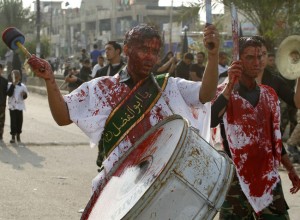 "The radius of the battle with us would reach across the Palestinian territories and extend from Israel's Kiryat Shmona [in northern Israel] to Eilat in southern Israel." He warned
"How will Israel, which was shaken by a small number of [Palestinian] rockets, be able to sustain the thousands of rockets that will be launched over Tel Aviv and other cities, in the event of an attack against Lebanon?" Nasrallah asked.
He was referring to the war in Gaza during which Hamas fired hundreds of rockets including the Iranian made al Fajr rockets which reached as far as Jerusalem and Tel Aviv .
Hezbollah, which fought a devastating 2006 war with Israel, is reportedly holding on its large arsenal consisting of tens of thousands of rockets, in the event Israel attacks Iran's nuclear facilities.
Commenting on the calls for dialogue by president Michel Suleiman and March 14 opposition for talks before their conditions are met he said that his party was prepared to attend national dialogue sessions but rejected any preconditions set by the opposition.
"Political dialogue is the way to go to resolve political, social, and national issues in Lebanon… Today I say that we are prepared to answer the invitation for dialogue on November 29 but we will not accept any pre-conditions or the arrogance of our opponents ," Nasrallah told his supporters .
"We are not going to beg for dialogue. To those who want to attend dialogue we say you are welcome and to those who refuse to attend we say go away   ."
Suleiman renewed calls for dialogue and on Saturday invited the country's opposing political factions to attend a dialogue session on November 29.
President Suleiman wants to resume the national dialogue to discuss Lebanon's defense strategy and the thorny issue of illegal arms in Lebanon, with special focus on Hezbollah's weapons stockpile.
Political tension has been on the rise in Lebanon ever since Internal Security Forces intelligence chief, Brig. Gen. Wissam al-Hassan was assassinated .
March 14 accused Syria and Hezbollah of being behind the assassination that took place last October 19 , held the cabinet responsible for it and demanded that Prime Minister Najib Mikati should resign and a new national salvation government to be formed before resumption of dialogue talks . The alliance also announced a boycott of all government work at the parliament.