Gaza: Death toll from Israeli raids rose to 45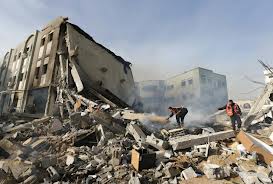 Five Palestinians were killed in new Israeli air strikes across Gaza on Saturday, raising the death toll from 72 hours of raids to 45, the emergency services said.
The latest death was that of a 30-year-old woman, killed in a strike on a home in the central Gaza town of Khan Yunis, an emergency services statement said.
Another two Palestinians were killed in a strike in Deir al-Balah in central Gaza, along with two more in the Masdar area, also in central Gaza.
At least four people were injured in the Deir al-Balah strike, which followed multiple strikes earlier in the day that killed 10 Palestinians.
The statement added that at least two Palestinians were in critical condition after an air strike on their car in the Zeitun neighbourhood of Gaza City, adding that another two were also in serious condition after a strike on a motorbike in Khan Yunis.
The bloodshed raised to 45 the total number of Palestinians killed in just over 72 hours of Israeli air strikes, while another 450 were injured, Gaza's emergency services said.
Over the same period, three Israelis have been killed by rockets and another 18 injured, 10 of them soldiers, police and the army said.
The News.com