A Senior Israeli official in Egypt for Gaza cease-fire talks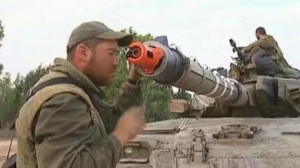 Egyptian security officials say a senior Israeli official has arrived in Cairo for talks on reaching a cease-fire to end an Israeli offensive in the Gaza Strip.
The officials said the official arrived at Cairo's airport and was immediately rushed away from the tarmac into talks.
The officials, speaking on condition of anonymity under security guidelines, did not identify the Israeli.
Israeli officials declined comment.
Egypt has been leading international efforts to broker a truce to end five days of fighting between Israel and Hamas militants in Gaza.
Nabil Shaath, an aide to Palestinian President Mahmoud Abbas who was in Cairo, confirmed the Israeli's arrival.
He says there are "serious attempts to reach a cease-fire."
Shaath was headed to Gaza later Sunday to work on cease-fire efforts.
Meanwhile on Sunday, Israeli strikes hit two media centers in the Gaza Strip, as Israel warned it was widening its range of targets to go after military commanders of the territory's Hamas rulers.
Palestinian militants fired at least one more long-range rocket at Tel Aviv, the fourth day in a row which the Israeli heartland has come under fire.
The fifth day of Israel's campaign against Gaza rocket operations finds it at a crossroads of whether to launch a ground invasion or pursue Egyptian-led truce efforts. Israel has said it is not prepared to enter into a truce without guarantees the rocket fire won't resume.
"The Israeli military is prepared to significantly expand the operation," Prime Minister Benjamin Netanyahu declared at the start of the weekly Cabinet meeting.
Early Sunday, the military carried out dozens of attacks on rocket-launching sites, a major training base and the two media centers. Israeli gunboats also fired on militant sites on the Gaza shore line, the military said without elaborating.
Seven Palestinian civilians were killed in airstrikes Sunday, including five children ranging in age from one to 11, according to Ashraf al-Kidra, a Gaza health official.
Two of the children, a 3-year-old girl and a 5-year-old boy, were from the same family and were killed by an airstrike on the three-story home in the town of Beit Lahiya. Hamas security officials said three missiles struck the house, owned by a Gaza family with links to militants' rocket squads. It was not known if any militants were in or near the house at the time of the strike. Another strike targeted a Hamas militant in his car outside his home in the Shati refugee camp near Gaza City, but also killed an 11-year-old girl passing by at the time, al-Kidra said.
The deaths bring to 53 the number of Palestinians killed since the operation began on Wednesday. Twenty of the dead were civilians, and more than 400 civilians have been wounded, al-Kidra said. On the Israeli side, three civilians have been killed and more than 50 wounded by rocket fire.
The military said another rocket was fired at Tel Aviv, but was intercepted by the "Iron Dome" missile defense system. Police spokesman Micky Rosenfeld said two rockets were fired. It was impossible to immediately reconcile the two reports.
The repeated rocket fire on Tel Aviv and Friday's attack toward Jerusalem have significantly escalated the hostilities by widening the militants' rocket range and putting 3.5 million Israelis, or half the country's population, within reach. The attempt to strike Jerusalem also has symbolic resonance because both Israel and the Palestinians claim the holy city for a capital.
The strikes on the media centers hit two high-rise buildings, damaging the top floor offices of the Hamas TV station, Al Aqsa, and a Lebanese-based broadcaster, Al Quds TV, seen as sympathetic to the Islamists.
A Gaza press association said six Palestinian journalists were wounded, including one who lost a leg. Foreign broadcasters, including British, German and Italian TV outlets, also had offices in the high-rises.
The Israeli military said it was aiming at a communications antenna on the roof of one of the buildings. It had no immediate comment on the other strike.
Bassem Madhoun, an employee of Dubai TV, said two missiles scored a direct hit on Al Aqsa TV's 15th floor offices in one of the buildings.
Building windows were blown out and glass shards and debris were scattered on the street below. Some of the journalists who had been inside the building at the time took cover in the entrance hallway.
Mohammed Shrafi, a Palestinian cameraman, said he was in the street filming when he was hit by shrapnel coming down from the building.
Asked why Israel was targeting media centers, he replied, "They want to keep us from telling the truth."
Israel's military spokesman. Brig. Gen. Yoav Mordechai, warned that Israel would go after Hamas commanders Sunday, in addition to rocket squads, in "more targeted, more surgical and more deadly" attacks.
Mordechai, the Israeli military spokesman, told Army Radio that despite truce efforts, the military has been ordered to intensify its attacks, following a late-night meeting led by Netanyahu and Defense Minister Ehud Barak.
"I imagine in the next few hours, we will see ongoing targeted attacks on gunmen and Hamas commanders," Mordechai said. "More targeted, more surgical and more deadly."
Israel launched its military campaign on Wednesday, after months of renewed rocket fire from Gaza, by assassinating Hamas' military chief in an airstrike. Since then, it has relentlessly targeted suspected rocket-launching and storage sites.
While Israel was suggesting the campaign might heat up, Gaza Prime Minister Ismail Haniyeh of Hamas spoke for 20 minutes by phone Sunday with Egyptian President Mohammed Morsi, who is trying to broker a cease-fire between Israel and Hamas, according to Haniyeh's office.
Haniyeh told Morsi he supports such efforts, provided Hamas receives "guarantees that will prevent any future aggression" by Israel, his office said in a statement.
A quick agreement appears unlikely because the two sides are far apart in their demands. Hamas is linking a truce deal to a complete lifting of the border blockade on Gaza imposed by Israel and Morsi's pro-Western predecessor, Hosni Mubarak, in 2007, after the Islamists seized the territory by force. Hamas also seeks Israeli guarantees to halt targeted killings of its leaders and military commanders.
Israeli officials reject such demands. They say they are not interested in a "timeout," and want firm guarantees that the rocket fire will finally end. Past cease-fires have been short lived.
Israeli Defense Ministry director Udi Shani told Army Radio that Israel's operation against Gaza militants was not meant to topple the Islamic militant Hamas, but to cripple its capabilities to attack Israel.
"If we don't achieve our goals from the air, we will have to enter by ground," Shani said. "I hope in the coming days it will be decided."
In Iran, Israel's arch-foe, parliament speaker Ali Larijani urged Islamic countries to send weapons for Palestinians.
"Today, serious military help is expected. Why can the United States and the West hand over weapons to the Zionist regime, or Israel, but weapons should not be given to Palestine?" state radio broadcast Larijani telling parliament.
CBS News