Gaza rocket strikes a city near Tel Aviv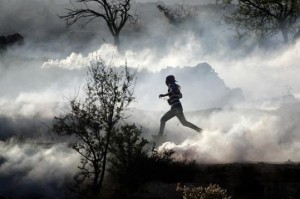 The Israeli army says a rocket has reached the southern outskirts of Tel Aviv, by far the farthest strike by Gaza militants in two days of fighting.
The military said the rocket landed in Rishon Lezion, a city just south of Tel Aviv located in heavily populated central Israel.
The rocket landed in an open area and caused no damage or injuries. Nonetheless, it illustrated the growing capabilities of Gaza militants.
The Israeli military launched an offensive on Wednesday, in large part to take out rocket launchers.
Israel's military spokesman, Brig. Gen. Yoav Mordechai, says the air operation has delivered a ''strong blow'' to militants' launching sites.
Boston / AP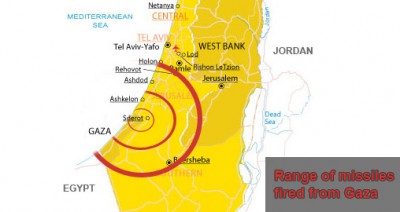 Photo: A Palestinian demonstrator runs through a cloud of tear gas during clashes against Israel's operations in Gaza Strip, outside Ofer, an Israeli military prison near the West Bank city of Ramallah, Thursday, Nov. 15, 2012. Meanwhile, Palestinian President Mahmoud Abbas cut short a trip to Europe to deal with the crisis. (AP Photo/Majdi Mohammed)
AP / November 15, 2012