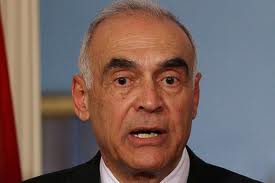 Egypt's foreign ministry condemned on Wednesday a series of Israeli strikes that killed a Hamas top military commander in the Gaza Strip and called for an immediate halt to the attacks.
The attacks came despite signs that Egypt had managed to broker a truce between Israel and Palestinian militants after a five-day surge in violence which saw more than 100 missiles fired out of Gaza and repeated Israeli strikes on the enclave.
Islamist Hamas said Ahmed Al-Jaabari, who ran the organization's armed wing Izz el-Deen Al-Qassam, was killed along with a passenger when their car was targeted by an Israeli missile. A hospital spokesman in Gaza said so far that four were killed and 10 people had been wounded.
"Foreign Minister Mohamed Kamel Amr condemned the series of air strikes that Israel is currently conducting against Gaza Strip and which led to the killing of Ahmed Al-Jaabari," said the statement released by Egypt's foreign ministry.
"He called on Israel to stop its strikes on Gaza Strip immediately," the statement said adding that any further escalation from Israel "could have negative repercussions on the security and stability of the region".
The statement said the Egyptian minister considered the "Israeli escalation to be very dangerous".
Egypt's new Islamist President Mohamed Mursi who hails from the FJP, the political wing of Egypt's Muslim Brotherhood group, has since his election last June strengthened the relationship between Egypt and Hamas, the political front of the Palestinian Muslim Brotherhood.
The FJP issued a similar condemnation statement.
"The Freedom and Justice Party stresses its full condemnation to the Israeli assignation operation against Al-Qassam leader Ahmed Al-Jaabari," a FJP statement said calling for a quick Arab and international reaction.
"Israel's return to the policy of assignation of leaders from the Palestinian struggle groups shows that the Israeli occupation wants to drag the region towards instability," the FJP statement added.
"But the occupying state has to understand that the changes the Arab region, and especially Egypt, have witnessed will not permit that the Palestinian people be put under the hold of the Israeli offence in the same way as the past."
Some Arab states, including Egypt, have undergone changes that have seen a strong rise of Islamist leaders after popular uprisings that ousted authoritarian rulers.
Reuters