Vatican Cancels Syria Trip Due To Danger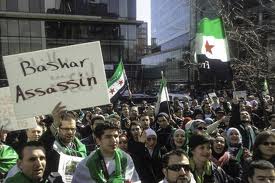 The Vatican has cancelled a high-level papal delegation to Syria to promote an end to the conflict due to the deteriorating situation there.
Pope Benedict had originally intended to send seven senior clerics to Damascus, including Cardinal Timothy Dolan, the Archbishop of New York.
Instead, Cardinal Robert Sarah, head of the Vatican Cor Unum department which coordinates Roman Catholic charities, will visit Lebanon and meet religious and political figures there, including Syrian Church leaders and refugees, the pope said on Wednesday.
Speaking to pilgrims and tourists at his weekly general audience, Benedict called on the world powers to help end the civil war in Syria. He also urged both sides to spare no effort to seek peace through dialogue.
"We have to do everything possible because one day it could be too late," he said.
The pope visited Lebanon in September and called for an end to arms sales to Syria. The country is about 10 percent Christian, a minority that feels increasingly under threat by sectarian conflict in the Middle East.
Huffington Post