MP Hobeish and his father receive death threats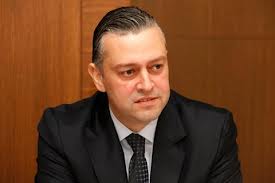 Former Minister Fawzi Hobeish confirmed on Tuesday reports that he and his son Future Movement parliamentary bloc MP Hadi Hubeish received death threats.
"Five unknown assailants aboard a BMW X5 model with tainted glass blocked the way off my car near Ghazir junction and asked my driver to convey a message to me and to my son," Hubeish told National News Agency.
"You and your son should watch out as your time is near," the assailants said in the message, according to Hubeish.
NNA said that the former Minister filed a complaint with the competent security agencies that immediately opened an investigation into the incident.
Other threats
Last month MP Hubeish said Five Future bloc MPs have been receiving death threats from Syria via telephone and text messages.
"Other than me four Future MPs have been receiving death threats via phone calls and text messages sent from a Syrian number," Hubeish told The Daily Star on October 22
Hubeish said his Future colleagues receiving threats were MPs Nouhad Mashnouq, Ahmad Fatfat, Khaled Daher, and Ammar Houry.
MP Hobeish , who comes from the northern region of Akkar, said he received three text messages and a phone call from a person who had a Syrian accent, "congratulating" him over the death of slain Brig. Gen. Wissam al-Hassan and telling him his turn is yet to come.
"The first message was sent the night before the assassination of Hassan… I didn't take it seriously because the situation in the country had been calm for a while," said Hubeish.
The second text message was sent the night Hassan was killed, and the third over the weekend, MP Hubeish added.
"'Congratulations, that's the first to be slain among a list of ten,' read the text message sent the night Hassan was killed," said the MP.
Hassan was killed last October 19th in a car bombing in a residential neighborhood Ashrafieh. The attack led to the death of at least three and the injury of more than 126 people.
March 14 coalition accused the Syrian regime of standing behind Hassan's assassination. Lebanese Forces leader Samir Geagea went a step further and accused Hezbollah of executing the crime under orders from Iran and Syria.
Naharnet , DS, NNA