Franjieh slams Suleiman's stance on Samaha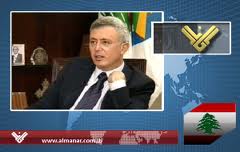 During an interview with Hezbollah's al Manar TV, MP Suleiman Franjieh slammed President Michel Suleiman's position on the issue of the arrest former minister Michel Samaha, calling it 'extreme' and said he is betting on the survival of the Syrian regime
"The president should have congratulated ( Internal Security Forces intelligence chief Maj. Gen.) Wissam al-Hassan and ( Internal Security Forces chief) Ashraf Rifi and awaited the results of the investigation instead of launching accusations," Franjieh said.
Following the discovery of the explosives that were transported from Syria by former Minister Michel Samaha , Suleiman congratulated the Internal Security forces and announced that he is waiting for a phone call from President Assad about Syrian General Ali Mamlouk's alleged participation in a terrorist plot with Samaha.
Commenting on the assassination of Hassan he said one should not ask who killed Hassan but rather who "betrayed" him.
"We must not ask who killed Hassan but rather who betrayed Hassan, and usually those who betray are the allies," said Franjieh.
He added: Imad Mughniyeh was 1500 times more important than Hassan, why don't they acknowledge he was also a martyr.
He is referring to the Hezbollah commander who was assassinated in Damascus on 12 February 2008.
Franjieh accused the opposition March 14 camp of taking advantage of Hassan's assassination in order to topple Prime Minister Najib Mikati's government.
"Blaming Mikati for Hassan's blood is an excuse to seize the premiership," Franjieh charged, adding that Hassan was a lot closer to Mikati than he was to former Pm Saad Hariri.
In response to a question, Franjieh said: "If Hassan had a role in sabotaging Syria, that means that Syria has the motive to assassinate him, but I don't believe that it had anything to do with the operation."
"March 14 are hinting that Hassan was a friend of Israel and an enemy of Syria by refusing to accuse Israel of the assassination," he added.
Wissam Al-Hassan was killed on October 19 in a car bomb explosion attack in the Beirut district of Ashrafiyeh.
Syria was accused of being behind the assassination. Lebanese Forces leader Samir Geagea accused Hezbollah of executing the crime under orders from Iran and Syria.
Commenting on the situation in Syria, Franjieh who is a stanch ally of the Syrian regime said that he strongly believes in the principals of Syrian president Bashar al Assad and that his friendship with him remains strong and that he called him two days ago . Franjieh concluded that Syria is in a difficult situation but he is betting on the survival of the Syrian regime.