Lebanon Speaker postpones parliament session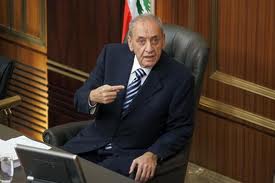 Lebanese parliament Speaker Nabih Berri decided to postpone the upcoming parliamentary session which was set for November 7 until an indefinite date due to March 14's boycott of the parliament.
"I decided to postpone the November 7 parliament session until a date that we would determine later because we are keen that everyone participates in these sessions," Berri said Thursday following his meeting with Prime Minister Najib Mikati.
Yesterday Berri criticized the decision of the March 14 coalition to boycott government and parliamentary activities and said this could result in suspension of the upcoming parliamentary plenary session.
On Tuesday, March 14 alliance leaders held a meeting at MP Saad Hariri's Downtown Beirut residence following which they announced that they are cutting all ties with the Hezbollah dominated government of Prime Minister Najib Mikati .
The meeting was attended by former Lebanese President and Phalange party leader Amine Gemayel, Former Prime Minister Fouad Siniora and Lebanese Forces leader Samir Geagea, as well as several MPs and officials.
Siniora reiterated in a statement read after the meeting March 14′s demand for the government's resignation, emphasizing that the alliance will continue boycotting all governmental activities until the cabinet is toppled.
Deputy Speaker MP Farid Makari , a key member of March 14 alliance said on Monday that he would not call for a meeting of the parliamentary sub-committee, citing the risk of assassination that "some March 14 MPs" were facing.
March 14 coalition has called for the resignation of Mikati's cabinet following the October 19 car bombing that killed Internal Security Forces intelligence chief Wissam Al-Hassan.