Blast kills arms maker in Tripoli, north Lebanon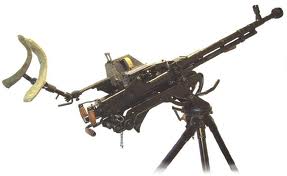 A home-made weapons manufacturer in north Lebanon was killed in a blast in his workshop on Sunday while trying to make a machine gun for Syrian rebels, a Lebanese security official told AFP.
Marwan al-Qassab was working on a DShK , an anti aircraft  machine gun  to be smuggled into Syria to support the rebels when a blast rocked his workshop, the official said on condition of anonymity.
"Marwan al-Qassab had a small, weapons factory in the town of Minieh," 10 kilometers (six miles) north of the coastal city of Tripoli, he added.
"Members of the security forces rushed to the scene, and found his body shredded by the blast."
Syrian fighter jets  bombarded  civilian areas in  Damascus on Sunday, continuing the air raids launched on Sunni Muslim neighborhoods in the capital since a U.N.-brokered ceasefire was supposed to begin two days ago, opposition activists said.
AFP