Syrian regime, opposition agreed to a Eid ceasefire, Brahimi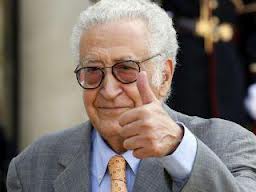 Syria has agreed to a ceasefire during the short Muslim holiday of Eid al-Adha, which begins Friday, international mediator Lakhdar Brahimi told a Cairo news conference Wednesday.
Brahimi, appointed by the United Nations and Arab League, said some Syrian opposition groups he had been in contact with had also agreed to a truce in principle.
Brahimi didn't elaborate on how such a truce would be monitored. Reporting from Syria is difficult and claims made by either side are almost impossible to verify.
Eid al-Adha – the feast of the sacrifice – starts on October 26 in the 2012 Gregorian calendar and lasts up to four days.
"After the visit I made to Damascus, there is agreement from the Syrian government for a ceasefire during the Eid," Brahimi told a news conference at the Cairo-based League.
He did not give a precise time period for the ceasefire but said Damascus would announce its agreement on Wednesday or Thursday. Syria's foreign ministry said it was still studying the truce proposal.
"Other factions in Syria that we were able to contact, heads of fighting groups, most of them also agree on the principle of the ceasefire," he added.
President Bashar Assad is fighting an insurgency that grew out of street protests 19 months ago and has escalated into a civil war in which 30,000 people have been killed.
His overstretched army has lost swathes of territory and relies on air power to keep rebels at bay.
"If this humble initiative succeeds, we hope that we can build on it in order to discuss a longer and more effective ceasefire and this has to be part of a comprehensive political process," Brahimi said.
NBC/AP/Reuters