Major events that shaped Lebanon's modern history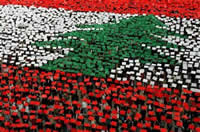 Over the centuries, the region of modern-day Lebanon has been the territory of the Phoenicians, the Assyrians, Persians, the Roman Empire, Arabs, Egyptians, the Ottoman Empire and France, before Lebanon finally gained independence in 1943.
As a result, Lebanon has been coloured by a range of cultures. But the country has also witnessed waves of factional violence — the latest incident being the Oct. 19 bombing that killed one of the country's security chiefs.
Here's a look at major events that have shaped Lebanon's current discord.
October 2012
A bomb blast in Beirut on Oct. 19 kills eight people, including Brig. Gen. Wissam al-Hassan, head of the country's Internal Security Forces and a vociferous critic of the regime in Syria. Weekend clashes between supporters of Lebanon's government and opponents who feel the current regime is too closely allied with Syria lead to at least four deaths across the country.
It is thought that the Oct. 19 attack, the highest-profile assassination in Lebanon in seven years, is evidence that the Syrian civil war is spreading beyond that country's borders.
2011
Lebanon's national unity government crumbles after several members of parliament in the March 8 Alliance — a number of political parties allied with the Shia group Hezbollah — resign over caretaker Prime Minister Saad Hariri's refusal to reject the Special Tribunal for Lebanon (STL). Based in the Netherlands, the United Nations-mandated tribunal had issued arrest warrants for four Hezbollah members in the 2005 assassination of Hariri's father, Rafik, then-PM of Lebanon. Hezbollah denies its involvement in Rafik Hariri's death, and views the tribunal as an instrument of Western meddling in Lebanese affairs.
In the wake of Saad Hariri's ouster, the parliament elects Najib Mikati, a candidate backed by Hezbollah. This marks the first time that Hezbollah, a political faction that many Western countries have labeled a terrorist group, has been part of the Lebanese government.
2008
After the government declares Hezbollah's communications network illegal, the militant group seizes western Beirut. This leads to factional fighting between pro-government and opposition militias — and at least 62 deaths — that only ends with the signing of the Doha Agreement on May 21.
The accord leads to the establishment of a national unity government in which Shia opposition parties such as Hezbollah gain an important veto power.
2006-2008
Protests led by pro-Hezbollah groups demand the creation of a power-sharing national unity government. The political stalemate is such that when Emile Lahoud's presidential term ends in October 2007, Lebanon is left without a president.
2007
At a Paris conference, international donors pledge $7.6 billion US in grants and loans to help Lebanon's government and its economic program. Canada's international co-operation minister, Josée Verner, adds as much as $20 million Cdn in new money to the $30 million previously announced.
2006
Hezbollah militants in Lebanon conduct a raid into Israel in July, killing eight Israeli soldiers and taking two hostage. Israel retaliates by hitting roads and bridges in southern Lebanon and attacking the Beirut international airport.
Two days after the start of the conflict, Foreign Affairs Minister Peter MacKay announces plans for the evacuation of Canadian citizens from Lebanon. Over the next few weeks, about 15,000 Canadians flee Lebanon on ships chartered by Ottawa. The fighting continues for a month before a UN resolution and ceasefire take effect.
In November, Lebanese Industry Minister Pierre Gemayel, a prominent anti-Syrian politician, is fatally shot while driving through a Christian suburb of Beirut. Many prominent Lebanese politicians accuse Syria of planning the assassination. Damascus and Hezbollah condemn the killing.
2005
An explosion in downtown Beirut kills 17 people in February, including former prime minister Rafik Hariri. Witnesses say the attack appeared to target Hariri's motorcade. Many Lebanese blame the country's Damascus-backed government and Syria — a charge both governments deny.
Thousands of demonstrators defy a government protest ban, gathering in Beirut to demand Syria withdraw its army from Lebanon. Lebanese Prime Minister Omar Karami and his cabinet resign, and at the end of April Syria pulls the last of its troops from the country.
In December, a report by the UN International Independent Investigation Commission implicates Syrian authorities and their Lebanese allies in the assassination. Syria denies any involvement.
2004
A UN resolution calls on Syria to end its influence on Lebanese internal politics and withdraw its 20,000 troops from the country. It also calls for the disbanding of all Lebanese militias, most notably Hezbollah, and for a new presidential election. The next day, the National Assembly votes to extend the term of President Lahoud by three years.
2000
In accordance with a 1978 UN Security Council resolution, Israel completes its withdrawal from the south of Lebanon. Rafik Hariri returns as prime minister.
1998
Gen. Emile Lahoud, a pro-Syria candidate, is elected president. Rafik Hariri resigns as prime minister, to be replaced by Salim al-Hoss.
1996
Over a two-week period in April, Israeli forces attack Hezbollah positions in southern Lebanon, Beirut and the coastal region.
1995
Prime Minister Rafik Hariri and President Elias Hrawi change the constitution to extend their terms for three years.
1992
Elections for the National Assembly are held. Hezbollah wins eight seats in National Assembly elections.
1991
An amnesty law is passed, pardoning certain political crimes committed during the war. Militias formed during the war are dissolved, with the exception of Hezbollah, which retains its weapons. The civil war ends.
1990
Aoun's forces are defeated by Syria and Aoun is exiled to France. President Hrawi and the parliament agree on constitutional amendments and the formation of a new National Assembly, with high offices and a fixed number of seats reserved for members of certain ethnic groups.
1989
A committee appointed by the Arab League appoints Rene Mouawad president of Lebanon. He is assassinated less than three weeks later and replaced by Elias Hrawi. Rafik Hariri is named prime minister.
1988
At the end of his term in office, President Amin Gemayel appoints Gen. Michel Aoun, a Maronite Christian, acting prime minister. Muslim groups reject Aoun and back Salim al-Hoss, a Sunni Muslim, as their own prime minister.
1987
Prime Minister Rashid Karami is assassinated.
1985-1988
Heavy fighting occurs among various Lebanese, Palestinian, leftist, Muslim, Druze and Christian factions. An explosion in Tripoli in June 1985 kills 60 people.
1984
The president of the American University of Beirut is assassinated. The U.S. Embassy in Beirut is again attacked; nine people are killed.
1983
Lebanon, Israel and the U.S. sign an agreement for Israeli withdrawal, but Syria refuses to pull out its troops. Israeli soldiers pull back from their positions in southern Lebanon, but maintain a presence in a zone near the Israeli border.
A suicide bomb attack at the U.S. Embassy in Beirut kills 63 people. An attack on the headquarters of American and French forces kills 298 people.
1982
Israeli forces invade Lebanon a second time, moving into southern Lebanon and, with the help of Christian forces there, into East Beirut. Multinational forces arrive in Beirut. U.S. mediation prompts the withdrawal of fighters from Syria and the Palestinian Liberation Organization (PLO). Bashir Gemayel, a Christian, is elected president, but is killed three weeks later.
Christian troops retaliate by killing hundreds of Palestinian civilians in the Sabra and Shatila refugee camps, as Israeli troops encircled the camps. Israeli Defence Minister Ariel Sharon would later resign after an inquiry found him indirectly responsible for the massacre.
1981
The PLO uses positions in southern Lebanon as bases for artillery attacks on Israel. The U.S. negotiates a ceasefire among Syria, the PLO and Israel.
1978
The PLO attacks a bus in northern Israel, which spurs Israeli forces to begin searching for PLO bases in southern Lebanon. The UN Security Council calls for the immediate withdrawal of Israeli forces, to be replaced by a UN Interim Force.
Street graffiti tells the story in 1976, during Lebanon's civil war, which saw clashes between numerous homegrown factions, aided by foreign governments. (Keystone/Getty Images)
1976
The Palestine Liberation Organization joins with Muslim fighters. Fighting spreads to most parts of Lebanon. The president calls for support from Syrian troops. The Arab Deterrent Force is established to separate Muslim and Christian fighters in Lebanon.
1975
Tensions between Muslim and Maronite Christian groups in Lebanon boil over when shots are fired at a church and a bus full of Palestinians is ambushed in East Beirut. The Lebanese civil war begins.
1967
As a result of the Six-Day War, during which Israel begins its occupation of the West Bank and Gaza Strip, a second wave of Palestinian refugees comes to Lebanon.
1958
Lebanese President Camille Chamoun asks the U.S. for assistance in quelling a Muslim rebellion. The U.S. briefly dispatches 5,000 Marines to Lebanon.
1948
The establishment of the state of Israel and the ensuing Arab-Israeli War brings an influx of Palestinians to Lebanon.
1946
Lebanon gains independence as the last French troops leave the country.
1943
The Free French government, in exile in London, recognizes Lebanon's sovereignty.
1920
After the First World War, as a result of the dismantling of the Ottoman Empire, the League of Nations gives the mandate of Syria, including Lebanon, to France.
CBC.CA.