Future bloc to boycott dialogue talks, calls on cabinet to quit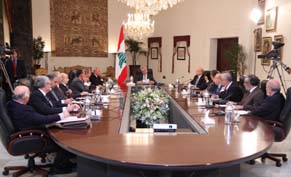 The Future Movement Parliamentary bloc announced in a statement on Tuesday that it will not participate in the national dialogue sessions and reiterated its call on Prime Minister Najib Mikati's cabinet to resign.
" We hereby declare that we will not participate in any national dialogue sessions and parliamentary or political meetings linked to the government and its officials until the cabinet resigns," the bloc announced following its weekly meeting.
The bloc had earlier called on the cabinet to resign following the assassination of Internal Security Forces intelligence chief Wissam al-Hassan last Friday.
"The terrorist blast that targeted Hassan…shows that the criminals who previously targeted Lebanon still have criminal intents and goals targeting] Lebanon." The statement stressed
It added that exposing the "Syrian regime conspiracy" against Lebanon( a possible reference to the case of former Information Minister Michel Samaha), pushed the Syrian regime "and its aides" to prepare "the assassination of Hassan."
"Assassinating Hassan would not have been easily carried out if there had not been security breaches . The presence of this cabinet helped provide political and security cover…that contributed to the atmosphere of this crime." the statement said
It also called for forming a "neutral cabinet whose head and members are neither March 14 nor March 8 components."
The assassination of Al Hassan, blamed by many on the Syrian regime, has stirred up sectarian violence in Lebanon where people are deeply divided between supporters and opponents of President Bashar Assad's government in Damascus. Syria has intervened heavily in Lebanese affairs over the past decades and is blamed for the deaths of many prominent critics and anti-Syrian political figures. Al-Hassan challenged both Syria and its powerful Lebanese ally Hezbollah.
Now Lebanon