Ashton in Lebanon to meet key officials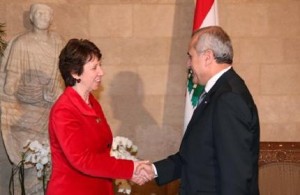 European Union foreign policy chief Catherine Ashton is in Lebanon to meet with the country's top officials.
She first met with with Prime Minister Najib Mikati at the Grand Serail and left the meeting without talking to reporters
From the Grand Serail she headed to Baabda palace to hold talks with President Michel Suleiman. She is expected to meet later several other key officials before holding a news conference at Beirut's airport in this afternoon, according to media reports.
Ashton is here to discuss the latest developments in Lebanon in the wake of the assassination of Internal Security Forces Intelligence Bureau chief Brigadier General Wissam al-Hasan, to highlight Lebanese-European relations, and address the latest developments in the region according to al-Mustaqbal newspaper.