The aim of the sit in to get rid of Hezbollah arms, MP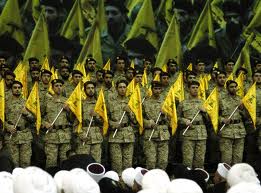 March 14 MP Mouin Merhebi , a member of the Future Movement parliamentary bloc told As-Sharq al-Awsat newspaper in remarks published on Tuesday that the aim of the sit-in being held near Prime Minister Najib Mikati's residence in Tripoli is to get rid of Hezbollah's weapons and not toppling the cabinet.
"What we want is to get rid of Hezbollah the party of weapons , which is controlling Lebanon and its institutions," Merhebi said
He also said that "there would be no benefit to toppling the cabinet, because nothing would change."
"Before this cabinet, previous cabinets went through the same situation, and this will be the case for the coming cabinets if things do not change," he added.
Hezbollah, which was credited with liberating Lebanese territories from Israel in 2000 was a very popular organization in Lebanon and throughout the Arab world. But according to analysts ever since its 2006 war with Israel, Hezbollah has become the main liability for Lebanon. In 2006 Hezbollah's arms were used to try and bring down the government of former PM Fouad Siniora. In 2008 Hezbollah pointed its guns against the Lebanese people when it occupied more than half of Beirut and tried but failed to occupy Mt Lebanon . In 2011 it brought down the government of former PM Saad Hariri and reportedly used its arms to force progressive socialist party leader MP Walid Jumblatt and his parliamentary bloc to vote for their candidate Nagib Mikati as the new premier . Hezbollah's current support for the Syrian regime in its brutal crackdown against the pro democracy uprising is another main concern for the Lebanese people, analysts say.