Turkey accuses Russia of supplying Syria with munitions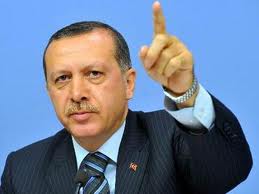 Turkey's prime minister, Recep Tayipp Erdogan, has accused Russia of directly supplying munitions to the Syrian government, after Turkish jets intercepted a plane en route from Moscow to Damascus.
Russia had earlier flatly denied that the Syrian plane, which was forced to land in Ankara, was carrying any military equipment. But Erdogan told reporters: "These were equipment and ammunition that were being sent from a Russian agency … to the Syrian defence ministry," the Associated Press reported. "Their examination is continuing and the necessary [action] will follow."
Erdogan's comments clearly implied that he was accusing Moscow of lying.
Earlier, in angry exchanges, Russia had accused the Turkish authorities of endangering Russian lives when the Syrian Air Airbus was intercepted by Turkish F16 fighter jets on Wednesday evening.
Turkish media reports said cargo confiscated from the plane before it was allowed to leave Ankara included radios, antennae and equipment "thought to be missile parts". Syria immediately condemned the Turkish action as piracy.
Turkey said previously that it had received an intelligence tip-off that the plane had illegal cargo on board. Erdogan warned last year that Turkey would be willing to take measures to "stop and confiscate" any shipment of military supplies, by air or sea, to Syria in contravention of its own unilateral embargo.
The incident underlines sharp and growing disagreements over the crisis – the bloodiest of the Arab spring – which Syrian opposition activists say has cost 30,000 lives in the last 19 months. On a new and alarming front, Turkey and Syria have traded artillery fire several times over their border in the past week.
Diplomats said Turkey was flexing its muscles after Russia refused to condemn Syria at the United Nations last week when mortar shells fired by the Syrian army killed five civilians in a Turkish border village.
Birol Akgün, of Ankara's Institute of Strategic Thinking, told Zaman newspaper: "This is a signal to both Syria and third parties, such as Russia and Iran."
Russia is Syria's closest ally and has supplied it with weapons as well as providing diplomatic and political cover in the UN security council. Turkey has called for President Bashar al-Assad to step down and has allowed limited supplies of weapons to be delivered across the border to the Syrian rebels.
Syria protested that the Airbus passengers were in a "very bad psychological state". One of them, a Syrian aviation official, alleged that Turkish officials pointed guns at crew and handcuffed passengers.
"We had no cargo on that aeroplane," Vyacheslav Davidenko, spokesman for Russia's state arms export company Rosoboronexport, told Reuters. "We always deliver our weapons in full compliance with international norms. Sending weapons on a passenger aeroplane breaks about every law there is," he said.
Russian and Chinese objections mean there are no international arms sanctions in force against Syria. Moscow has balked at western pressure to cut co-operation with or pressure the Syrian regime and has made several unsuccessful attempts to deliver renovated helicopters. One shipment was sent back as it rounded the coast of Scotland in the summer.
"Russia is not interested in escalating the conflict in Syria," said Ruslan Aliyev, an analyst at the Centre for Analysis of Strategies and Technologies, a Moscow-based consultancy with links to Russia's defence community. "Secretly delivering weapons to Syria would put at risk Russia's image and reputation and [Vladimir] Putin's personal reputation. No Russian leader would go on such a risky venture."
Assad sought to calm tensions with Ankara, describing Syria and Turkey as brothers in an interview published on Thursday. He insisted Turkey had "no reason to go to war" over the cross-border clashes. "We should work on this issue together," he told the left-leaning Turkish newspaper Aydinlik. "In times like this, countries should correct their mistakes by talking to each other."
Inside Syria, meanwhile, battles continued in Idlib province, near the Turkish border, as rebels sought to consolidate control of a strategic town on the main north-south highway. Rebels said they captured Maaret al-Numan on Wednesday. The British-based Syrian Observatory for Human Rights said clashes continued after rebels attacked a military convoy and nearby checkpoints. The Syrian Revolution General Commission reported 47 deaths in Idlib, Deraa, Damascus and Homs.
Guardian