Hezbollah admits launching Iranian drone over Israel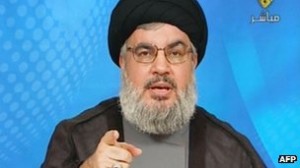 The leader of Lebanese Shia militant movement Hezbollah has said that his group was behind the launch of a drone shot down over Israel last week.
Sheikh Hassan Nasrallah told the movement's al-Manar television network that the drone was made in Iran and had flown over "sensitive sites" in Israel.
Israeli fighter planes shot down the drone north of the Negev desert after it entered from the Mediterranean.
Israel's prime minister has again vowed to defend the country's borders.
'Aerial capacity'
Sheikh Nasrallah said: "A sophisticated reconnaissance aircraft was sent from Lebanese territory… and travelled hundreds of kilometres over the sea before crossing enemy lines and into occupied Palestine."
Correspondents say Sheikh Nasrallah's mention of "sensitive" Israeli sites is an apparent reference to Israel's Dimona nuclear reactor.
"Possession of such an aerial capacity is a first in the history of any resistance movement in Lebanon and the region," he said.
Referring to a drone sent by Hezbollah during its 2006 war against Israel he added: "It's not the first time and it will not be the last. We can reach all the zones [of Israel]."
Israeli Prime Minister Benjamin Netanyahu, speaking during a visit to the frontier with Egypt, said Israel was "acting with determination to protect our borders".
"As we prevented last weekend an attempt by Hezbollah, we shall continue to act aggressively against all threats," he said.
It was his first public statement blaming Hezbollah for the incident.
The drone, which did not carry any explosives, was destroyed over a largely uninhabited area. It flew some 35 miles (55km) inland before being shot down.
On at least three occasions unmanned aircraft operated by Hezbollah have been detected over Israeli territory.
Although Israeli officials have not given details of where they think the drone came from, Israel's media have published maps indicating it was launched near the southern Lebanese port city of Sidon.
It is claimed that the aircraft flew out to sea, then south, and then appeared over southern Israel from the direction of the Mediterranean.
The Israeli military said the aircraft had been detected by ground-based defence systems.
Israeli jets flew alongside it before shooting it down.
The drone incident came amid growing hints by Israel that it may launch a military strike against Iran – Hezbollah's close ally – if Tehran continues with its controversial nuclear programme.
In another development on Thursday, Mr Netanyahu's office announced the date of the general election as 22 January.
The vote was brought forward by nine months after the prime minister failed to agree an annual budget with his coalition partners.
His right-wing coalition government has been in power since 2009.
BBC