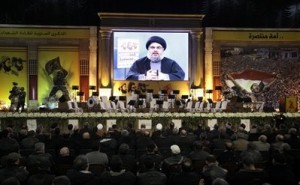 Hezbollah Secretary General Sayyed Hassan Nasrallah is expected to make another TV appearance on Thursday  via video link during which  he will talk  about the current   Lebanese and regional issues including the drone discovered over the  Israeli airspace, according to an Al Manar Wednesday report .
Al-Manar  also reported that Nasrallah , who will appear at 8:30 p.m. will  tackle the latest developments regarding his party's alleged involvement in Syria's events.
This comes after British newspaper The Times  reported the presence of more than 1500 Hezbollah members fighting alongside the  Syrian forces  against the Syrian rebels. The newspaper accused Hezbollah of  also backing the embattled Syrian regime with logistical assistance, fighters and equipment, as well as in training the Syrian army's snipers and passing on its expertise in guerrilla warfare to the regime's Shabiha militia.
Activists in the Syrian province of Homs  also reported  that Hezbollah is sending its members to the country in order to take part alongside government troops in fighting against  the rebels in the besieged town of Qusayr near the border with Lebanon.
Last week Hezbollah buried several martyrs without elaborating on the causes of their deaths, spiking rumors that these were killed while fighting in Syria.