Berri denied discussing Boutros proposal with Suleiman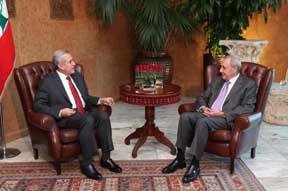 Speaker Nabih Berri denied in remarks published on Thursday discussing the Fouad Boutros electoral proposal with President Michel Suleiman.
" The reports regarding agreement with the president over the adoption of the Boutros electoral law is devoid of truth," Berri told Al-Akhbar newspaper, adding that the issue never came up during his discussion with the president.
Under the Boutros electoral law, half of the deputies within a single district would be elected by proportional representation and the other half by simple majority.