Turkey vows more force against Syria if shelling continues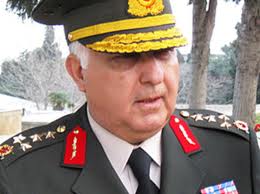 A news agency says Turkey's military chief has vowed to respond "with more force" against Syria if shelling from the country continues.
The Dogan news agency says Gen. Necdet Ozel made the comments Wednesday during a visit to a town where shelling from Syria killed five civilians last week. The attack sparked a week of cross-border artillery and mortar exchanges that escalated tensions between the two neighbors.
Turkey has reinforced its border with Syria and Ozel visited the town while inspecting troops along the frontier. His comments came a day after NATO's chief said the alliance was ready to defend Turkey, in a direct warning to Syria.
Turkish Prime Minister Recep Tayyip Erdogan said Wednesday Syria was "the bleeding heart of humanity and the whole Islamic world."