Gasoline prices down but natural gas up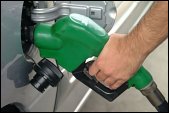 Following the drop in the international commodity markets , the prices of  fuel changed in Lebanon  on Wednesday October 10. While gasoline and Diesel fuel went down the price of natural gas went up.
Gasoline 98 octane is down  by LBP 400 ,  gasoline 95 octane is down  by  LBP 500, fuel oil and diesel both went down 100 LBP, while the the price of a gas canister rose by 300 LBP.
The  Minister of Energy and Water Gebran Bassil issued the following table for retail sales prices :
– Gasoline 95 octane: 35,900 LBP
– Gasoline 98 octane: 36,600 LBP
– Red diesel: 27,800 LBP
– Diesel Oil for vehicles: 28,400 LBP
– Gas Canister: 19,700 LBP
– Kerosene: 30,300 LBP
Gasoline / diesel / kerosene priced are per  20 liters, while natural gas is priced per standard size canister
1500 LBP= one US $
Source LBC