Syria's main opposition SNC to restructure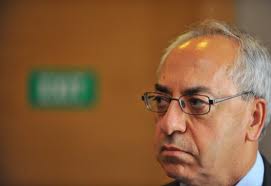 Syria's main opposition bloc will restructure itself in Qatar next week to seek fresh impetus, Syrian National Council leader Abdulbaset Sieda said on Wednesday, after months of criticism that it is too fractious and influenced by Islamists.
Sieda, speaking in Paris, also said the SNC reorganization would precede crunch talks in the Qatari capital Doha with other opponents of President Bashar al-Assad aimed at creating a Syrian transitional government.
Western and Arab countries that have called for Assad's removal are keen to improve cooperation among those trying to dislodge him, including the Istanbul-based SNC.
But the mainly-exiled political groups within the SNC have often been at odds with each other, and have not always agreed with rebel fighters or other political opposition movements operating within Syria, such as the Free Syrian Army, led by defected military officers.
"We want to create this government as quickly as possible, but speed doesn't mean rushing it," Sieda told reporters after being questioned by members of the French parliament.
"There is an urgency, but if we don't consult properly with the principle opposition forces on the ground, then we will have a weak government that we don't want."
The SNC was formed in Istanbul last year as an umbrella organization to guide a democratic transition if Assad fell, but has been accused by some of being dominated by Islamists.
The disparate opposition to Assad includes majority Arabs and minority Kurds, majority Sunni Muslims and members of minority sects, Islamists and secularists, political exiles and those who have stayed behind or returned to fight.
Sieda, who is due to resign from his position next week, said the first step would be a general assembly of the Syrian National Council in Doha from October 15-17 to elect a new leadership and increase the numbers of women and young members.
It will also incorporate some 20 new groups into the organization, including local coordination committees, business groups and smaller Kurdish, Turkmen and Syriac Christian representatives.
Sieda, who described himself as secular, reiterated that the SNC favors a secular, democratic Syria that respects minority rights and where power is to given local authorities, away from the centre in Damascus.
The mild-mannered professor, who is of Kurdish-Syrian origin and has lived in Sweden for the last 18 years, said that following the SNC re-organization, "key" strands of the opposition would meet in Doha aiming to reach an agreement to move towards the creation of a provisional government.
Among those groups would be local co-ordinating committees, as well as revolutionary and military councils.
France, the first country to describe the SNC as a legitimate interlocutor, has said it will recognize an all-inclusive provisional government as soon as it is in place.
Sieda this week travelled for the first time to northern Syria, where he met internal groups, but he admitted there were still obstacles to uniting the opposition.
"The obstacles exist, but they aren't big. At times it's difficult to agree exactly on how to bring together the points of view," he said. "But we agree that this regime has to end. We think we can get over our differences."
Sieda added the SNC wanted to move its operations to the so-called "liberated zones" in the north, but that it would be very difficult until those areas were protected from bombardment.
Reuters