Syrian plane forced to land in Turkey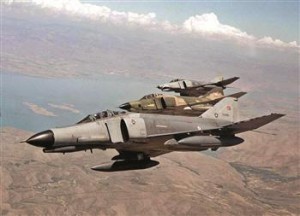 Turkish fighter planes have forced a Syrian passenger plane to land at Ankara's airport for investigation, Turkish state media report.
The plane, which was travelling from Moscow, is suspected of carrying weapons to Damascus, reports say.
A Turkish foreign ministry official confirmed that a Syrian plane had been ordered to land and that authorities were inspecting the cargo.
Turkey has made clear its support for the rebels in Syria's civil conflict.
The 35-passenger plane was escorted by Turkish F4 jets to the capital's Esenboga airport for security checks, the Anatolia news agency reported.
It follows an earlier warning to Syria by Turkey's top military commander that Ankara would respond with greater force if it continued its cross-border shelling.
Five Turkish civilians were killed by Syrian mortar fire last week, prompting Turkey to fire into Syria for the first time since the uprising against President Bashar al-Assad began 19 months ago.
Meanwhile, the US has confirmed reports it has established a military task force in Jordan.
It is monitoring the security of Syria's chemical and biological weapons as well as helping with the aid effort.
BBC