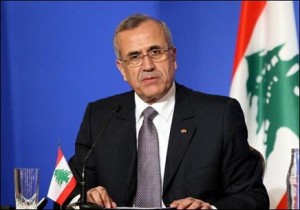 In an interview on NBN television on Wednesday President Michel Suleiman said he has not received yet the phone call from Syrian president Bashar al Assad adding " I hope this phone call will take place."
Following the discovery of the explosives that were transported from Syria by former Minister Michel Samaha , Suleiman congratulated the Internal Security forces and announced that he is waiting for a phone call from President Assad about Syrian General Ali Mamlouk's alleged participation in a terrorist plot with Samaha.
In response to a question about his recent change in stances Suleiman said : "Extraordinary circumstances require extraordinary stances."
In response to a question about the possibility of extending his presidential term the president responded: "I will not accept that my presidential term be extended and the constitution must be respected."
In response to a question about launching his own political movement Suleiman responded:
"I'm not planning on launching a political movement, but such a movement might naturally emerge from the street. There is popular satisfaction with the president's performance and this might pave the ground for the establishment of such a movement in the future."
In response to a question about the so called resistance arms in Lebanon the president said: "Any weapons used domestically must be removed and this issue has nothing to do with the defense strategy and it is a separate item on the national dialogue's agenda." A possible reference to Hezbollah arms which were used domestically against the Lebanese people in May 2008
This error message is only visible to WordPress admins
Error: No connected account.
Please go to the Instagram Feed settings page to connect an account.