Samaha questioned about role of Assad's aide in terror plot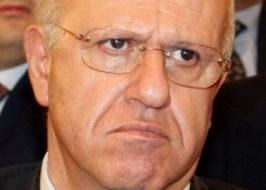 The Lebanese Military Investigation Judge of Beirut Riad Abou Ghaida interrogated on Wednesday Former Minister Michel Samaha regarding the alleged phone calls with the Syrian presidential adviser Bouthaina Shaaban and her role in the terror plot.
This comes after Lebanon's Internal Security Forces' Intelligence branch discovered that Shaaban, Syrian President Bashar Assad's media adviser was involved in Samaha's terror plot according to media reports.
MTV quoted senior sources as saying that the ISF's Intelligence Branch has forwarded a report including Shaaban's name to the military prosecutor's office, which in turn would refer it to the military investigative judge after studying it.
The report includes an analysis of data from Samaha's phone calls in Damascus. It proves Shaaban's involvement and knowledge, along with senior Syrian General Ali Mamlouk, of Samaha's plans to bring explosives from Syria and detonate them in north Lebanon.
"Samaha called Shaaban and informed her of the steps he intended to make," MTV sources reported.
Lebanese judicial authorities have charged Samaha and Mamlouk with forming a group to commit terrorist crimes in Lebanon.
Explosives that were transported from Syria by former Minister Samaha were discovered by the Internal Security forces last August .
The evidence of Michel Samaha terrorist plot seems overwhelming, and the former minister appears to have confessed on tape to plotting to target Christian leaders with the aim of blaming Sunni extremists and cementing the Christian community's support for Assad's supposedly secular regime.
According to Lebanese security sources, when asked why he would do such a thing, the former minister replied, "This is what Bashar wants."