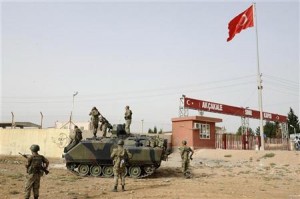 Turkey's military launched a retaliatory strike after Syria fired a mortar shell into countryside in Turkey's southern province of Hatay on Monday, a Turkish state official told Reuters.
It was the sixth consecutive day of Turkish retaliation against bombardment from the Syrian side of the border, where President Bashar al-Assad's forces are battling rebels.
The exchanges are the most serious cross-border violence in Syria's revolt against Assad, which began in March last year with protests for reform and has evolved into a civil war with sectarian overtones which threatens to draw in regional powers.
The latest mortar round from Syria landed 150-200 meters within Turkey's border in the district of Hacipasa at about 3 p.m. (1200 GMT), the official said.
Turkey's armed forces have bolstered their presence along the 900 km (560 mile) border with Syria in recent days.
Syrian rebel sources in Syria's Raqqa province, bordering the Turkish town of Akcakale where Syrian shelling killed five civilians last Wednesday, said they had seen five Turkish army trucks full of soldiers, patrolling the Turkish side of the border.
Reuters
Photo: Turkish soldiers take their position at the Akcakale border gate in southern Sanliurfa province October 7, 2012. REUTERS/Stringer
This error message is only visible to WordPress admins
Error: No connected account.
Please go to the Instagram Feed settings page to connect an account.