Turkey backs Syrian VP as Assad's replacement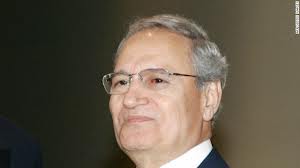 Turkey has signalled that Farouq al-Sharaa, Bashar al-Assad's veteran vice-president, could replace the Syrian leader at the head of a transitional administration, amid more firing across the border between the two countries.
"Farouq al-Sharaa is a man of reason and conscience and he has not taken part in the massacres in Syria," Turkey's foreign minister, Ahmet Davoutoglu, said in a weekend TV interview. "Nobody knows the [Syrian] system better than him."
Davoutoglu was on shakier ground suggesting that the anti-Assad opposition was "inclined to accept Sharaa" as a future leader – many would see him as too closely associated with the regime. But the intervention by Ankara shows that an important neighbour is thinking seriously about a political transition that could in theory win wide international backing at a time of mounting alarm about the crisis.
Sharaa is the most senior Sunni Muslim figure in Assad's minority Alawite-led government and he has a reputation for living modestly and not being corrupt. He served as foreign minister for 15 years before becoming vice-president in 2006. Persistent reports that he had defected in August were denied by Damascus, but some opposition leaders say he is apparently under house arrest.
Still, being named as an acceptable alternative by Turkey was not likely to endear him to Assad or the senior figures in the military and security establishment who surround the president, Syrian and foreign observers said.
Turkish units on the border fired at targets inside Syria for a fifth consecutive day on Sunday, responding to a Syrian shell that landed near the centre of Akcakale, where five civilians were killed on Wednesday in previous Syrian artillery fire.
The Syrian Observatory for Human Rights said Turkey hit near the Syrian town of Tel Abyad, where rebels have been fighting Assad's forces. Associated Press reported that eight shells were fired. At least 70 people were killed across the country on Sunday. The opposition says 30,0000 have died since the uprising began in March 2011.
Turkey has said it does not want war but hopes its threats to hit back will act as an effective deterrent. "You have to be ready at every moment to go to war if it is necessary," the prime minister, Recep Tayyip Erdogan, said in a speech in Istanbul. "If you are not ready for this, you are not a state."
Analysts see Syria as a dangerous quagmire for Turkey, despite the political support of its Nato allies. "Turkey is trapped between national honour and national interest," the US academic Joshua Landis said in a debate on al-Jazeera TV. "The national honour required that Erdogan responded in some way that shows toughness and resolve and would intimidate the Syrians from further action across the border. On the other hand, the national interest is to stay out of Syria. Syria is a potential Vietnam for Turkey, it's a swamp. It could suck Turkey in and cost Erdogan a great deal."
Iran's foreign minister, Ali Akbar Salehi, provided a rare account of Assad's state of mind in an interview with Der Spiegel. "I met in Damascus a president who was very aware of the critical situation," said Salehi, who saw the Syrian leader two weeks ago. "He did not appear detached but self-confident and combative. The president appeared convinced it was possible to win the conflict in Syria through military means."
Assad was "open for any solution that came from within Syria", Salehi said, but rejected being pushed out by foreign pressure, adding that there was no question of him seeking asylum.
Guardian