Are Hezbollah's mysterious 'martyrs' dying in Syria?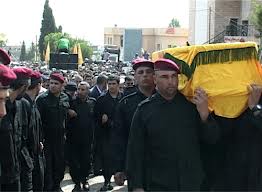 On October 1, Hezbollah, the powerful Lebanese Shiite movement, announced the death of one of its fighters in a terse statement. "The commander Ali Hussein Nassif [nicknamed Abu Abbas] was martyred while fulfilling his jihadi duty," said a notice relayed on Hezbollah-controlled media outlets.
No further details were provided.
But if there was a paucity of information surrounding Nassif's death, his funeral ceremony – in his native village of Bouday in the Bekaa Valley – was replete with Hezbollah pomp and circumstance.
Fighters from Hezbollah's militia wing, dressed in all-black uniforms topped with burgundy berets, carried the coffin draped in Hezbollah's distinctive yellow-and-green flag through packed village streets. Armed guards were deployed as several senior Hezbollah officials paid their respects to the deceased.
Clearly, Nassif was an important figure in the Hezbollah pecking order.
Over the past few weeks, a number of Hezbollah fighters have been killed while fulfilling their "jihadi duty" – a phrase that has raised eyebrows in many Lebanese circles.
"Nobody is fighting a war with Hezbollah at the moment, so [Hezbollah leader Hassan] Nasrallah should explain how his fighters can die as martyrs, or while fulfilling their jihadi duty in Lebanon," said a Lebanese observer – who did not wish to be named – in a phone interview with FRANCE 24 from Beirut.
"Unless, of course," he added, "they have died in Syria, where there is indeed fighting between rebels and forces loyal to Syrian President Bashar al-Assad, a staunch Hezbollah ally."
Hezbollah's uncharacteristic silence on Syria
Hezbollah's existence, its very raison d'etre, has been its resistance to Israel. In the past, it has waged war against Lebanon's powerful neighbour, but those days are over and all is relatively quiet along Lebanon's southern border with Israel.
But on its northern and eastern front, the Syrian civil war has entered its 19th month and is threatening to spill into Lebanon – a tiny, multi-religious country that has been historically destabilized by the conflicts in one of the world's most volatile regions.
While the Shiite movement's propaganda arms are particularly adept at lionizing the resistance against Israel, the Syrian civil war presents an altogether different conundrum for senior Hezbollah leaders.
Ever since the Syrian uprising against Assad began in March 2011, Hezbollah has categorically denied claims by Lebanese officials as well as Syrian rebels that its militia members were fighting in Syria.
Nasrallah, Hezbollah's powerful chief, has repeatedly maintained that his movement only provides moral backing to the Syrian regime.
'Tracking' Hezbollah commanders in Syria
But the spate of recent deaths of Hezbollah "martyrs" killed in the line of jihadi duty has exposed the inconsistencies of the official party line.
Over the past few weeks, there have been growing reports of Hezbollah fighters killed in Syria.
Defectors from Assad's military ranks have told journalists of Hezbollah fighters deployed among their ranks.
According to the British daily, the Guardian, new graves in cemeteries in Lebanon designated for Hezbollah martyrs have steadily been dug throughout the summer.
Syrian rebels periodically claim to have killed Hezbollah fighters in Syria.
Shortly after Nassif's death, the rebel FSA (Free Syrian Army) claimed responsibility for the death of the Hezbollah commander.
In an interview with the Arabic language Saudi daily, Okaz, FSA commander Col. Riad al-Asaad said his rebel army had tracked Nassif "for days" before he was killed in the al Qusayr neighbourhood of Homs.
According to the FSA commander, more than 300 people affiliated to Iran and Hezbollah had been killed in al Qusayr.
Are Iranian Revolutionary Guards in Syria?
The presence of Iranian fighters in Syria has also been a sensitive issue, one that has been a subject of repeated assertions and denials by different parties.
Shiite Iran is Hezbollah's financial backer and is part of the three-point "arc of resistance" against Israel, which includes Hezbollah, Iran and Syria.
In August, a senior commander in the Iranian Revolutionary Guards Corps came close to openly acknowledging its military involvement in Syria.
But other Iranian officials later denied the reports.
In an interview with the Washington Post in September, a senior US intelligence official said both Iran and Hezbollah had expanded their presence and role in Syria. But the official, who spoke to the US daily on condition of anonymity because of the sensitivity of the subject, said it appears that they have stopped short of carrying out operations or attacks.
Regardless of the roles they perform in Syria – be they tactical or operational – Syrian rebel commander Asaad has said Hezbollah and Iranian soldiers will continue to be targeted by his rebel fighters.
"Anyone who supports the Assad regime is a partner in crime and deserves punishment," he warned.
By Leela JACINTO
France 24