Israel deploys Patriot anti-missile batteries near Haifa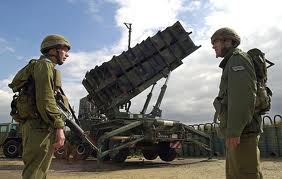 Israel has deployed Patriot anti-missile batteries near the northern port city of Haifa, Israeli media reported Monday, just two days after an unidentified drone infiltrated the country's airspace.
A military spokeswoman confirmed to AFP that the US-made missiles, which can shoot down drones, had been stationed near Haifa but refused to confirm the move was related to the Saturday infiltration.
A defence official told AFP it was not the first time that the mobile Patriot batteries had been deployed near Haifa.
Israeli fighter jets shot down the unarmed drone over the northern Negev desert on Saturday, after it entered the country's airspace from the Mediterranean Sea near the Gaza Strip.
Hezbollah
The Lebanese TV channel Al-Mayadeen which is affiliated with Hezbollah reported Sunday that the drone that infiltrated Israeli airspace on Saturday belonged to the Shiite group.
"The drone traveled 100 kilometers deep inside Israel and sparked tensions." According to the Al-Mayadeen report.
Israeli website Ynet said without quoting sources that "Hezbollah launched this drone. It is even possible that Iranians activated its launch and guidance system, and it is apparently of Iranian manufacture."
Ynet added: "The launching of such a craft over such a distance requires advanced means that Hizbullah does not possess up to now."
UN denies Al-Mayadeen and Israeli reports
The United Nations Interim Force in Lebanon (UNIFIL) on Monday said its radars did not detect the crossing of any drones from Lebanon into the Israeli airspace.
In an interview with Voice of Lebanon , UNIFIL spokesman Andrea Tenenti said the U.N. peacekeeping force did not witness any event of a drone flying from Lebanon into the Israeli airspace.