Syrian rebels claim capturing Assad's cousin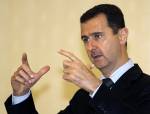 Syrian rebels announced Saturday that they have captured Hussam Assad, the cousin of Syrian President Bashar Assad.
The arrest was announced on the Twitter page of Sheikh Adnan Al Arour, who is considered one of the Salafi leaders in Syria. Al Arour claimed that his men successfully captured Hussam Assad, who is one of the men at the center of Assad's security establishment.
Reuters