Hezbollah, Syria behind Gebran Tueni's murder, report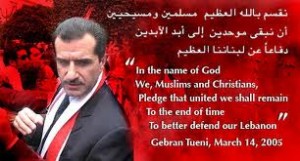 A classified document obtained by Al Arabiya, and which dates back to Dec. 12, 2005 reveals that Syrian Brigadier Waleed Abdel-Rahman of the reconnaissance unit in the foreign intelligence branch informed the late Gen. Assef Shawkat, Syrian president Bashar al Assad's brother-in-law and the former army deputy chief of staff, that "mission 213" was successfully executed with the help of Hezbollah.
The mission is suspected to be linked to the assassination of MP Gebran Ghassan Tueni, a former Lebanese politician and the editor and publisher of daily paper An Nahar.
Eman Eddin al-Rasheed, head of the Political Bureau in the Syrian National Rally, told Al Arabiya English that Tueni was a target of the Syrian regime since the "liberation of the south" of Lebanon in 2000 from Israeli occupation. Since then Tueini often voiced objection to Syrian presence in Lebanon.
Syrian troops completely withdrew from Lebanon on April 27, 2005 following an international outcry sparked by the assassination of the late prime minister Rafiq al-Hariri.
The Hezbollah movement and Syrian regime have been the major suspects in Hariri's murder.
Al Arabiya