Baath MP says If situation continues it will explode soon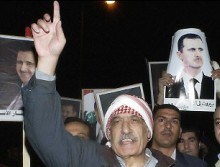 Baath Party MP Assem Qanso a close ally of the Syrian regime and Hezbollah told Voice of Lebanon radio station on Sunday that President Michel Suleiman has become a part of the opposition, the March 14 coalition.
"Suleiman has become a member of March 14, while Prime Minister Najib Mikati is trying to appease the March 14 parties and Progressive Socialist Party leader MP Walid Jumblatt does the same by dissociating himself from both March 14 and March 8 ," Qanso said
He added that if the situation continues as such, "it will explode soon."
Qanso's comments come after another ally of Hezbollah and the Syrian regime, Syrian Social Nationalist Party MP Marwan Fares criticized last month President Suleiman's recent stances and accused him of disloyalty towards Syrian regime of president Bashar al Assad.
The Baath party has been ruling Syria for over 4 decades.
Suleiman, Mikati and Jumblatt form the centrist bloc within the cabinet.
Jumblatt was the first to distance himself from the Syrian regime and has been the most outspoken critic of the brutal crackdown that has been going on since March 15, 2011.