Russia Blocks UN Draft Condemning Syrian Turkey Strike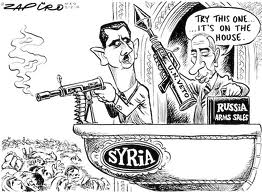 United Nations. Russian objections to a draft UN statement condemning Syria's deadly shelling of Turkey sent the Security Council back into consultations, diplomats said on Thursday.
The draft had been expected to be approved by a "silence procedure" — the text is considered adopted if no country objects — but "the Russians broke the silence," Britain ambassador Mark Lyall Grant told reporters.
He did not give details on the Russian objections.
The draft statement condemns "in the strongest terms" the Syrian strike against Turkey, saying the shellings "constitute a serious threat to international peace and security."
Russian spokesman Alexander Lukashevich had earlier said it was "important [that] a balanced approach, based on real facts, is exercised by the UN Security Council."
Moscow's Foreign Minister Sergei Lavrov added on Thursday that Syria had acknowledged to Russia the strike was a "tragic accident," and said it was "vital that Damascus states this officially."
And indeed Syria later admitted to the shelling, which killed five civilians on Turkish soil, apologized, and promised the incident will not be repeated, Turkey's deputy prime minister said.
Moscow, a historic ally of Damascus, opposes any military action against the Assad regime and has accused the West of fueling the 18-month conflict by allowing arms to flow to the opposition.
Germany's UN ambassador Peter Wittig said his government felt it was "important for this council to act responsibly and unified in order to avoid further conflagration."
He recalled that Berlin had "strongly condemned the Syrian shelling and at the same time called for restraint on all sides."
As she entered in the council chamber, Washington's UN Ambassador, Susan Rice, only responded to journalists' questions by calling to the Security Council members, "Let's go work on it."
Turkey on Wednesday called on the UN Security Council to take "necessary action" to stop what it called "an act of aggression by Syria against Turkey" in a letter from Ankara's UN Ambassador Ertugrul Apakan.
"It constitutes a flagrant violation of international law as well as a breach of international peace and security. Turkey calls for an immediate end to such unacceptable violations," the letter continued.
The Jakarta Globe/ AFP