MP Wehbe says March 14 electoral law serves Lebanon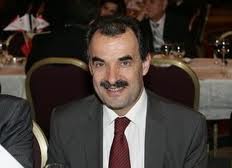 MP Amin Wehbe, a member of the Future Movement parliamentary bloc denied on Thursday that the draft electoral law proposal submitted by the March 14 Christian MPs was designed to serve the March 14 coalition, stressing "it serves the whole nation."
"There are several civilized countries that shifted from the proportional electoral law to draft laws based on small constituencies, because the smaller the district the closer the citizens will be to their representatives," Wehbe told Voice of Lebanon radio station.
Last week, the Christian Kataeb and Lebanese Forces parties affiliated with the March 14 alliance presented a draft electoral law on Thursday based on 50 small electoral constituencies.
Lebanon's Cabinet approved earlier in August a new electoral draft law that called for proportional representation and divided the country into 13 districts.
The new electoral law was approved by the majority of ministers, including the FPM ministers . The ministers that represent Progressive Socialist Party leader MP Walid Jumblatt's bloc voted against it.
MP Alain Aoun along with FPM MP Neemtallah Abi Nasr also submitted another draft electoral law . This is the so called "Greek Orthodox gathering proposal" which calls on each sect in Lebanon to vote only for its candidate in the elections based on proportional representation and one electoral district for the whole country .
March 14 Christian MPs Georges Adwan, Boutros Harb and Sami Gemayel submitted a draft electoral law based on 50 districts and winner take all majority to the Parliament's General Secretariat on Thursday morning, according to LBCI.
Jumblatt and his PSP MPs favor the current 1960 electoral law as modified in Doha Qatar in 2008.
Explosion
Wehbe also commented on the explosions in one of Hezbollah's arms depots in the Beqaa town of Nabi Sheet.
"The explosion is really dangerous, especially since it took place in a populated area," Wehbe said.
On Wednesday, Hezbollah issued a statement stating that three of its members were killed in the explosions that rocked the arms depot which reportedly contained old rockets and ammunition.