Hezbollah losses in Syria ring alarms in Lebanon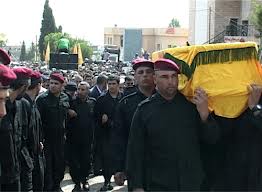 The killing of at least three Hezbollah fighters in Syria's civil war adds weight to persistent allegations the Iranian-backed movement has deployed military forces to prop up one of its most important allies, beleaguered President Bashar Assad in Damascus.
That could aggravate smoldering sectarian tensions in jittery Lebanon amid growing fears the conflict in Syria, which has long dominated its tiny neighbor, will ignite a new multi-front war two decades after the end of a civil war that lasted for 15 1/2 years.
Hezbollah confirmed reports Tuesday it three of its members were killed in northern Syria, which borders the movement's Bekaa Valley heartland in Lebanon, while they were performing "jihadi duties."
It didn't elaborate on that cryptic explanation and the circumstances surrounding the killings several days ago remain unclear.
But the men were either killed in a roadside bomb ambush by the rebel Free Syrian Army near the embattled town of al-Qusayr, 10 miles from the Lebanese border, Sunday or died in a rocket attack on the building where they were quartered.
One of the men was identified as Ali Hussein Nassif, a veteran Hezbollah commander who helped establish the Shiite movement when it was created by Iran's Revolutionary Guards during the 1982 Israeli invasion of Lebanon.
Nassif, whose nom de guerre was Abu Abbas, was buried Monday with full military honors in his hometown of Budai near the ancient Roman city of Baalbek, a Hezbollah stronghold in the northern Bekaa region. His funeral was attended by top-echelon Hezbollah leaders, underlining his status in the powerful movement.
The FSA commander, Col. Riyad al-Asaad claimed his forces tracked Assif and two bodyguards for a fortnight and killed him as he drove to a meeting with Syrian security chiefs.
Asaad claimed rebel forces have killed more than 300 people linked to Hezbollah or Iran's Revolutionary Guards around al-Qusayr in recent weeks.
There's no way of independently verifying that, which may well have been intended to beef up allegations that Hezbollah and the Iranians, Assad's key allies, have deployed combat units on the ground to reinforce the regime's forces.
But if it is true, it would strongly suggest that the Syrian conflict is being fought on a widening scale.
More importantly, it indicates the conflict is morphing into the regional sectarian war between Islam's mainstream Sunni sect, to which most of the rebels belong, and the breakaway Shiite sect that embraces the Iranians and Assad's minority Alawites, that so many have feared.
Since the uprising against Assad erupted March 15, 2011, Hezbollah has steadfastly denied it had deployed operatives in Syria.
The high-profile funerals of Nassif and his companions marked an unexpected shift in Hezbollah's position after many weeks of quietly burying fighters apparently killed in Syria without the honors accorded men who fell fighting Israel.
Hezbollah leader Hassan Nasrallah has acknowledged that the movement supports Assad's regime, a move that angered many of the Hezbollah's non-Shiite supporters across the region for championing the fight against Israel.
But he insisted this was limited to moral support only.
The secrecy surrounding Hezbollah's presence in Syria now seems to be slipping.
That could stir a backlash in Lebanon, where many clamor for the downfall of Assad, whose dynasty has dominated Lebanon, often through political assassination, since the 1970s.
Hezbollah, Syria's enforcer in Lebanon, refuses to disarm. It's also reviled for turning its guns on non-Shiites in May 2008 in a show of force that left more than 80 people dead.
Tehran admitted in August it had sent units of the Revolutionary Guards' elite Al-Quds Force to support Assad.
That could explain why Hezbollah now seems willing to admit it, too, has forces in Syria.
The Americans, who for years have been demonizing Hezbollah as a global threat, are likely to exploit that.
The capture of senior Hezbollah operative Ali Musa Daqduq in Iraq in March 2007 showed Hezbollah was deeply involved helping Iran train and operate Shiite special groups against U.S. forces.
Daqduq, accused of killing U.S. soldiers, was handed to the Shiite-dominated Iraqi government when U.S. troops withdrew.
Washington requested his extradition. But in May, Iraqi courts dropped the charges against him and in August said no to extradition.
UPI