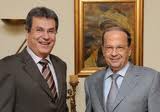 Free Patriotic Movement MP Nabil Nicolas defended on Thursday the powerful Shiite militant group Hezbollah and said it was not responsible for a decision taken by its members to fight in strife-stricken Syria.
"Should Hezbollah be held responsible if one of its members took a decision, all by himself, to go and fight in Syria?" Nicolas wondered during an interview with LBC television.
Free Patriotic Movement is led by MP Michel Aoun, Hezbollah's main Christian ally in Lebanon.
Nicolas also told LBC that if any member was fighting in Syria under an orders from Hezbollah then the act deserved condemnation.
The Iranian and Syrian-backed Hezbollah has denied any military role in the Syria uprising , even though it fully supports Syrian President Bashar al-Assad in his crackdown against the Syrian people.
Nichols comments come after one of Hezbollah's most senior operatives was killed in Syria and buried in his home village in Lebanon's Bekaa valley. Ali Hussein Nassif, a founding member of the organisation, was killed near Homs over the weekend in what is believed to have been a roadside bomb explosion.
Commenting on the explosions at an arms depot in the Hezbollah-controlled Beqaa Valley of eastern Lebanon on Wednesday, Nicolas told LBC that an "internal" faction or Israel could have been involved in the incident. Nicolas did not name the internal faction.
Nicolas added that it was "normal" for the Shiite group to cordon off the area surrounding the place where the explosions occurred before any other groups do so "to carry out preliminary investigation since such incidents are linked to the affairs of the Resistance."