Iranian rial sinks to a new all-time low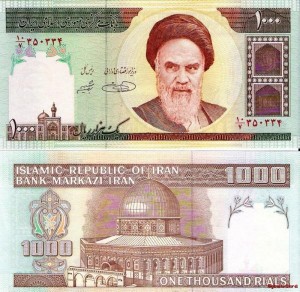 The Iranian rial plunged more than 7% in open-market trade on Monday to a new all-time low of about 32,000 per US dollar, traders and currency-tracking websites said, meaning the currency has lost about a quarter of its value in the past week.
The rial traded at 32,250 on Monday, currency-tracking website Mazanex said; an Iranian foreign exchange trader in Dubai confirmed the drop. The Iranian currency was trading at 24,600 last Monday, according to currency-tracking site Mesghal.
Reuters
Photo: 1000 Rial banknote . In 1979 , prior to the takeover of Iran by the Islamist regime of Ayatollah Khomeini, this banknote was worth just over $14 but today it is worth  about 3 cents or about 470 times less.