World powers urge Syria opposition to unite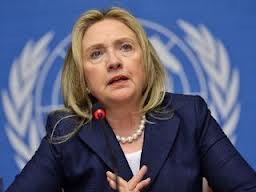 Western nations and allies in the Middle East meet Friday to urge Syria's fractured opposition to unite, seeking a new path for ending the country's conflict amid deadlock between major powers on the U.N. Security Council.
Secretary of State Hillary Clinton was hosting talks among the Friends of Syria — a coalition which includes the United States, the European Union and the Arab League — on the sidelines of the U.N. General Assembly, seeking to encourage better cooperation among groups which oppose Syrian President Bashar Assad.
The talks, which don't include Russia, China or Iran, take place with the Security Council at a stalemate on efforts to halt the 18-month long conflict, which activists say has led to more than 30,000 deaths.
Russia and China have vetoed three Western-backed resolutions aimed at pressuring Assad to end the violence and enter negotiations on a political transition, paralyzing the U.N.'s most powerful body and denting chances of any progress during the General Assembly.
Clinton has decried Assad's ''murdering of his own people,'' while Russia's Foreign Minister Sergey Lavrov — who will address the General Assembly on Friday — has accused the U.S. and other countries of encouraging terrorism in their stance on Syria.
French Foreign Minister Laurent Fabius has said it is ''shocking'' that the Security Council had been unable to act, while British Prime Minister David Cameron denounced the deaths of Syrian children as ''a stain on those who have failed to stand up to these atrocities,'' a reference to Russia and China.
Britain's Middle East minister Alistair Burt said Thursday that Friday's meeting would seize on tentative signs that Syria's opposition is becoming more willing to work together. ''What we hear is that they do understand the need to make more progress themselves,'' he said.
''Our message has been consistent,'' Burt added. ''No-one is asking them to form a unified, single party — but to have a clear set of objectives addressed towards minorities and the people of Syria as to what they would do.''
Iranian leader Mahmoud Ahmadinejad said Wednesday that he was developing a 12-nation group to work on developing a solution to Syria's crisis, but declined to say which countries may be involved or what steps the body might take.
Egyptian President Mohammed Morsi has also invited Iran, Turkey and Saudi Arabia to join a contact group aimed at ending the conflict, though the Saudis have not yet participated. Saudi Arabia's Foreign Minister Prince Saud al-Faisal was addressing the General Assembly on Friday.
''We don't want to close any options off that might be helpful in the process, but we struggle to understand how someone so involved in supporting the regime, and therefore perpetuating the cycle of violence, can be part of the answer,'' Burt said, referring to Ahmadinejad.
Libya's new Prime Minister Mustafa Abu-Shakour and foreign ministers of Germany and South Korea are also scheduled Friday to address the General Assembly.
Associated Press