Syrian Envoy lashed out at Qatar for backing opposition
Syrian ambassador to Lebanon Ali Abdel-Karim Ali lashed out at Qatar on Wednesday, accusing it of "financing the extremists, providing them with weapons and distorting the facts through the media" LBC reported.
The Syrian regime usually uses the terms " extremists" or "terrorists" to describes the opposition.
Following a meeting with Free Patriotic Movement (FPM) leader MP Michel Aoun at his residence in Rabieh Ali told reporteres:
"It is no longer a secret that Qatar funded media outlets and cooperated with Turkish, French and U.S. intelligence to distort the facts about the Syrian crisis."
The emir of Qatar called on Arab nations Tuesday to form a political and military coalition to intervene in Syria to stop the bloodshed there.
"We have used all available means to get Syria out of the cycle of killing, but that was in vain," the emir, Sheik Hamad Bin Khalifa al-Thani, said in an address to the U.N. General Assembly. "In view of this, I think it is better for the Arab countries themselves to interfere out of their national, humanitarian, political and military duties and do what is necessary to stop the bloodshed in Syria."
Commenting on his meeting with Aoun, Ali said the talks with the FPM leader addressed the recent assassination attempt , as well as the Syrian crisis.
Aoun said he escaped an attempt on his life when his convoy was returning from Jezzine last Sunday.
Ali denied his country is involved in incidents that tamper with Lebanon's security.
"Syria is keen on Lebanon's security and the brotherly ties between the two countries," Ali stressed.
Asked about a high-ranking Syrian official's involvement in former Lebanese minister Michel Samaha's case, Ali said: "Samaha's case is aimed at media exploitation instead of looking for the truth. I can say Syria is innocent of any incident targeting Lebanon's security."
Syrian President Bashar al-Assad gave his direct orders to executing terrorist attacks in Lebanon, details of an investigation with Samaha, detained for alleged involvement in the plot, revealed last August.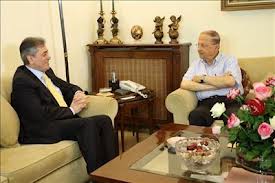 Lebanese daily newspaper al-Jumhourya reported that Samaha had admitted to investigators that he was working for the Syrian regime trying to execute a plan to blow up explosives in the northern Lebanese city of Akkar.
Samaha was arrested on Aug. 10 and was accused of planning to detonate bombs prepared by the Syrians with the aim of "inciting sectarian fighting" in Lebanon.
Samaha admitted to having collaborated with General Ai al-Mamlouk, head of the Syrian national security bureau and another Syrian army officer.