Qatar emir calls on Arabs to intervene in Syria:UN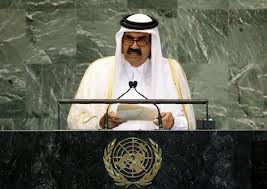 The emir of Qatar called on Arab nations Tuesday to form a political and military coalition to intervene in Syria to stop the bloodshed there, posing a direct challenge to U.N. efforts to resolve the conflict through negotiations.
"We have used all available means to get Syria out of the cycle of killing, but that was in vain," the emir, Sheik Hamad Bin Khalifa al-Thani, said in an address to the U.N. General Assembly. "In view of this, I think it is better for the Arab countries themselves to interfere out of their national, humanitarian, political and military duties and do what is necessary to stop the bloodshed in Syria."
The appeal, which received a cool reception from the Obama administration, was part of a broader effort by the Persian Gulf nation to press for an intervention in Syria in the hope of ultimately persuading the United States, as well as European powers, to participate in a military overthrow of President Bashar al-Assad, possibly after the U.S. election in November.
Violence between Syrian forces and rebels has continued to rage, with activists estimating that as many as 30,000 people have been killed since the revolt began in March 2011. On Tuesday, several bombs went off inside a school in the Syrian capital, Damascus, and Syrian soldiers battled rebels in a firefight that sent several mortars sailing across the border into the Israeli-occupied Golan Heights, according to the Associated Press.
U.S. officials have made clear that they do not support a military solution to the crisis in Syria and that they are unlikely to provide military backing for an Arab force. U.S. officials still assess the Syrian opposition as scattered and Assad's government as strong enough to hold onto power for some time.
"We've made clear what our view is at the moment on the question of military intervention and no-fly zones," a senior U.S. official said. The official, who spoke on the condition of anonymity to describe closed-door diplomacy, said the Qatari proposal may be part of an emerging "Plan B" for international involvement.
"This is something they have discussed in the past, and have raised as a prospect or a possibility at the right time and under the right circumstances. We have obviously never taken anything off the table, but we've been clear that in our view military intervention from the outside right now would do more harm than good," the official said.
The Qatari emir, dressed in traditional robes, said an Arab force in Syria could be modeled on the Syrian-led Arab Deterrence Force, which was established by the Arab League during Lebanon's civil war in 1976 and provided regional backing to Syria's military occupation of Lebanon.
He urged countries "that believe in the cause of the Syrian people to contribute to the provision of all sorts of support to this people until it gains its legitimate rights."
Without U.S. support, the Qatari plan stands little chance of being implemented, and it is unlikely that an Arab force could be mustered to go to war with one of the region's most powerful armies, particularly one with the strong backing of Iran and Russia.
The emir's remarks came hours after U.N. Secretary General Ban Ki-moon appealed to governments to stay out of the conflict and support the efforts of his special representative, Lakhdar Brahimi, to resolve the crisis through diplomatic means.
"We must stop the violence and flows of arms to both sides, and set in motion a Syrian-led transition," he said.
Ban's comments appeared targeted at the warring parties' foreign backers, including Qatar and Saudi Arabia, which have reportedly armed the insurgents, and Russia and Iran, which are backing the government.
Secretary of State Hillary Rodham Clinton is likely to pledge additional U.S. aid for Syrian opposition groups during a meeting Friday with activists and diplomats from several other countries that support a move to democracy in Syria, the U.S. official said. The "Friends of Syria" session will focus on unifying the political opposition inside and outside the country.
Clinton met Tuesday with Brahimi, and the senior U.S. official said she endorsed his approach to move slowly in proposing any new international peace plan. One put forward by Brahimi's predecessor, Kofi Annan, failed.
"We believe there is still room, as Brahimi does, for a negotiated transition" leading to an interim government and eventually to a "new Syria," the official said. "He doesn't think that's going to happen tomorrow or next week."
Washington Post