New Syria Envoy: No immediate prospect for a breakthrough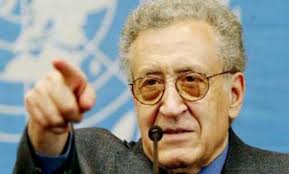 The newly appointed Syria peace envoy gave a bleak assessment of the stalemated war there on Monday, telling Security Council diplomats that the government of President Bashar al-Assad had no wish to change and that there was no immediate prospect for a diplomatic breakthrough.
The assessment of the envoy, Lakhdar Brahimi, a veteran United Nations diplomat and former Algerian foreign minister who represents both the United Nations and Arab League, was his first to the Security Council since he took over the position at the end of August from Kofi Annan, who resigned in frustration.
Mr. Brahimi spoke on a day of fierce Syrian government attacks on the Syrian city of Aleppo, with antigovernment activists reporting at least eight people including four children killed by shelling of residential buildings.
The Security Council meeting was held in private, but diplomats told reporters afterward that Mr. Brahimi had told them that Mr. Assad's government appeared entrenched in its belief that the Syria conflict is a foreign-instigated plot and that Mr. Assad wants to return the country to the political structure that existed before the uprising against him broke out in March 2011.
Speaking to reporters later outside the Council chambers, Mr. Brahimi said: "All I can tell you is that the situation is indeed extremely difficult. There is a stalemate, there is no prospect today or tomorrow to move forward."
Still, in a glimmer of optimism, he said: "Now that I have found out a little bit more about what is happening in the country and the region, I think we will find an opening in the not-too-distant future. I refuse to believe that reasonable people do not see that you cannot go backward, that you cannot go back to the Syria of the past. I told everybody in Damascus and elsewhere that reform is not enough anymore, what is needed is change."
Mr. Brahimi visited Damascus last week and met with Mr. Assad, and said then that the crisis was deteriorating and that he had not yet formulated a plan to stem the violence. He reiterated to reporters at the United Nations that he still does not have a plan.
The shelling in Aleppo appeared to be part of a broader attack by the Syrian government that included the use of warplanes to bomb targets on the outskirts of Aleppo, the northern city that had been Syria's commercial epicenter and is now a battleground in the conflict.
Activist groups gave conflicting accounts on the attack that destroyed the buildings in Aleppo. The Syrian Observatory for Human Rights, a London-based group that receives reports from sources inside Syria, said the neighborhood came under shelling. Elsewhere in the city, a rebel battalion commander a fighter were killed in clashes with government troops.
Other activists said warplanes or helicopters bombed the neighborhood. Video disseminated by activists on Monday showed people frantically searching through the rubble for survivors.
One activist in Aleppo said that electricity was cut off to the city at about 6 p.m. on Sunday night, often a precursor to an attack by the military. Warplanes could be heard flying overhead. On Monday, "Aleppo woke up to the sound of aerial bombing and heavy artillery shelling," said another activist.
On Sunday, domestic opposition groups, searching for another way forward, gathered in the capital Damascus in a rare instance of officially tolerated dissent, and called for Mr. Assad's removal from power.
The meeting, in a Damascus hotel tightly guarded by government security agents, brought together representatives of about 20 domestic opposition groups, including leftists and longtime dissidents who have struggled to stay relevant as the uprising has become a war.
NY Times