Number of Syrians in need of food aid rises from 250 k to 1.5 mil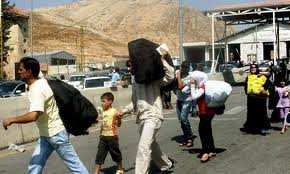 The number of Syrians in need of food aid has jumped from 250,000 in April to 1.5 million today, the head of the U.N.'s food agency said Monday, as more civilians are driven from their homes by an escalating civil war.
Separately, the international envoy to Syria, Lakhdar Brahimi, told reporters at the U.N. that the conflict threatens to spill across the Middle East and is "extremely bad and getting worse."
In a closed-door session of the U.N. Security Council, Brahimi had harsh words for Bashar Assad, saying the Syrian president has no intention of carrying out reforms that would end his family's four-decade grip on Syria.
Brahimi's comments were relayed by a diplomat who participated in the briefing and spoke on condition of anonymity because he was not authorized to discuss publicly what was said.
Assad insists he is ready to consider political reforms and portrays those fighting to bring him down as foreign-backed terrorists. Syria's opposition groups, both in exile and in the country, dismiss Assad's promises and say the dictator must step down ahead of any political dialogue.
Syria's 18-month conflict appears to have reached a stalemate, with neither Assad's military nor armed rebels able to deliver a knock-out blow. The death toll has reached nearly 30,000, according to activists, while hundreds of thousands of Syrians have been displaced, many seeking refuge in neighboring Turkey, Lebanon and Jordan.
In recent weeks, fighting has focused on Aleppo, Syria's largest city and a strategic prize for both sides. Rebels seized several neighborhoods of Aleppo over the summer, but have been unable to take full control of the city of 3 million, Syria's commercial capital and a former regime stronghold. The regime for its part has been unable to drive opposition fighters out of the city, despite superior firepower.
Taking Aleppo could give the rebels momentum and a stronghold in the north near the Turkish border. A rebel defeat, at the very least, would buy Assad more time.
On Monday, Syrian warplanes bombed two buildings in Aleppo's southern neighborhood of Maadi, killing five people, including three children from the same family, activists said. The apartment buildings were destroyed and more people were feared buried under the rubble, activists said. An amateur video showed people digging through the debris in search of survivors.
The aim of such strikes on residential areas is to terrify people and turn them against the Free Syrian Army rebel group, said Aleppo-based activist Mohammed Saeed. "The regime wants people to say that had the Free Syrian Army not entered the city, the regime wouldn't have bombed us," Saeed said.
In New York, the U.N.'s World Food Program warned that it is running short of funds to cover operations in Syria because of sharply growing needs. World Food Program chief Ertharin Cousin said the agency had raised $78 million, but needs $60 million more to cover its annual Syria budget. The crisis is likely to worsen as Syria's wet, chilly winter rolls in, she said.
In addition to aid pledges, Cousin said, donor countries need to exert diplomatic pressure to ensure the Syrian government allows agency workers access to those in need. Aid workers are struggling to reach families in conflict areas in and around the capital Damascus, and in the cities of Aleppo and Homs, adding that the agency's staff are traveling in armored vehicles.
The spike in the number of Syrians needing food, or money to buy food, has come as fighting has forced families to leave homes and jobs, with little hope of supporting themselves elsewhere.
"People are now living in schools and other public facilities like schools because they can't go back to their homes," she said. "It's an impossible situation for families, women, children, living through this crisis on a daily basis."
"Those who are food insecure are also internally displaced for the most part. If we don't provide them with the food assistance that is required, they will go hungry," Cousin said.
Across Syria, at least 48 civilians and 22 regime soldiers were killed Monday, including 16 in Aleppo, according to the Syrian Observatory for Human Rights, a Britain-based activist group.
The battle for Aleppo has marked the first time the regime has used helicopters and warplanes regularly to strike from the air, bringing an even heavier toll of civilian casualties. Previously, the military relied heavily on often indiscriminate artillery and tank shelling.
The Observatory and another group, the Local Coordination Committees, reported violence elsewhere in the country, including attacks by government troops backed by helicopter gunships on the southern town of Sheikh Miskeen in Daraa province.
The Observatory said rebels and troops were fighting near the military air base of Tabaqah in the northern province of Raqqa. Last week, rebels captured a major border crossing with Turkey in Raqqa.
Meanwhile, the Assad regime came under attack in a different arena. The state-run news agency SANA said its Facebook page was hacked in what it described as "another attempt targeting the Syrian national media." Efforts are underway to repair the Facebook page, the agency said.
Fox News / Associated Press