Mikati to stress Lebanon's policy of disassociating at UN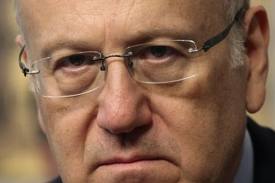 Prime Minister Najib Mikati who will represent Lebanon at the United Nations General Assembly, is scheduled to travel to New York City on Saturday at the head of delegation and is scheduled to deliver Lebanon's speech at the General Assembly on Thursday.
At the UN he is expected to stress the Lebanese government's policy of disassociating itself from the Syrian crisis, according to An Nahar newspaper
Mikati will most likely also demand the international community's assistance in meeting the needs of the Syrian refugees in Lebanon, according to the An Nahar report
According to the U.N. s more than 1.2 million Syrians, over half of them children, have become internally displaced in the country while an estimated 250,000 refugees sought shelter in neighboring Jordan, Lebanon, Turkey and Iraq.  An estimated 40,000 refugee are in Lebanon.