Pope: I regret having to leave Lebanon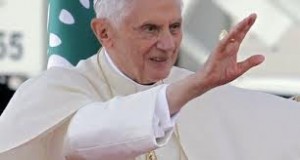 "Your warmth and your affection make me wish to return. I thank you for that especially. May God bless you for it!" Pope Benedict XVI told the Lebanese as he was departing from Lebanon at the end his 3-day visit.
He added in reference to the warm reception he received:" To that consideration and respect, you added something else, which can be compared to one of those renowned oriental spices which enrich the taste of food"
The Pope was responding to the speech of president Michel Suleiman during a ceremony at Rafik Hariri International airport . He thanked all the Lebanese people and officials for their warm reception.
" I regret having to leave Lebanon, I will keep praying for the Lebanese people who form a wonderful piece of mosaic", the Pope said.
Suleiman in his speech expressed his gratitude towards the Pope for his "efforts that are aimed at preserving Lebanon's sovereignty and stability", He also thanked the Pope for his efforts in "protecting Lebanon from any attack."
"Lebanon will always be loyal to its relationship with the Holy See and to its role in the region", Suleiman stressed.