Civil war:Residents in Syria's capital 'stuck in the middle'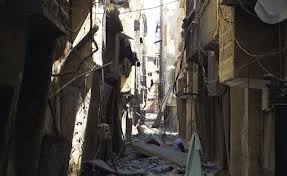 After 18 months of violent unrest, clouds of black smoke suggest conflict is closing in on Syria's capital.
On the streets of Damascus, no one flinches when artillery shells explode just a few miles away. Residents who support neither the government nor the opposition say the situation is out of their control.
"Every day we are hearing this boom, boom and everything else, but there is a life that is going on," said Rama Hamdi, seeking a bit of normalcy at a beauty salon. "I am worried sick about it, but there is nothing we can do."
Despite an abundance of people at an ancient bazaar, several storekeepers say business is down.
They said they are afraid to talk on camera, worried about what the government might say and what the rebels might do to them.
When asked about the shelling heard in the background, the storekeepers say they are afraid because they think the war is getting closer.
And they're right. Destruction from when government forces chased the rebel Free Syrian army lies just a 10-minute drive away,
On many days, the reported death toll from around the capital is far higher than from areas surrounding other cities.
"Nowadays I cannot go to the countryside without being worried someone will stop me," said Rauda Alaita, the salon owner. "Is it the real army or the other army stopping me? What answer I should answer them with (about) who I am? Now it's really difficult because you are stuck in the middle."
At a news conference under the banner of unity — and in an array of anything but united — opposition figures called for talks with the government.
There is an air of urgency here as speakers discuss how the situation is worse than it was a year ago. They say they need to be united and need to speak with a common voice. Even as these talks are going on, here you can hear a blast in the distance.
But the armed opposition, such as the Free Syrian Army, aren't present. They'd be arrested.
The opposition members gathered here are the ones the government tolerates. Some, like Mazen Bilal, know they are powerless.
"We are demanding from the regime for guarantees for the safety of this opposition to come in," Bilal said, "but we can't impose this on the regime."
CNN