18-year-old arrested over Chicago Car Bomb Plot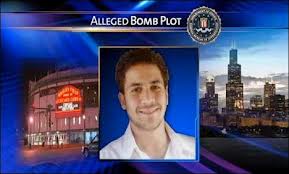 An 18-year-old man who tried to set off what he thought was a car bomb outside a downtown Chicago bar on Friday night has been arrested and charged in a federal undercover sting, authorities said Saturday.
Adel Daoud, a U.S. citizen who lives in the Chicago suburb of Hillside, planned for months for the attack and prayed with a man who turned out to be an undercover agent before attempting to set off a bomb in a Jeep outside a bar, authorities said.
Daoud, who considered up to 29 possible targets, was charged with one count of attempted use of a weapon of mass destruction and one count of attempt to damage and destroy a building by means of an explosive.
The inert explosives posed no threat to the public and were supplied by undercover law enforcement, acting U.S. Attorney Gary Shapiro said in a statement. Daoud was closely monitored and offered several opportunities to change his mind.
According to an FBI affidavit, Daoud used email accounts starting in about October 2011 to gather and send materials "relating to violent jihad and the killing of Americans."
Daoud emailed a lengthy powerpoint presentation to several people defending the tactics of al Qaeda leader Osama Bin Laden and emailed himself several articles on Anwar al-Awlaki, a U.S.-born Muslim cleric who the U.S. said was a leader of al Qaeda's Yemen affiliate, the affidavit said.
Awlaki was killed in a drone strike in September 2011.
Daoud also was registered in an Internet forum where members "discuss violent jihad and distribute jihadist propaganda and related instructional materials," the affidavit said.
Two undercover FBI employees began corresponding with Daoud in May, exchanging several electronic messages with him in which he expressed an interest in "engaging in violent jihad, either in the United States or overseas," the affidavit said.
From late May to mid-June, Daoud sought guidance on whether to carry out an attack in the United States, then sought online resources on how to carry out an attack, the affidavit said.
CONSIDERED ATTACKING TOURIST ATTRACTIONS
An undercover FBI agent then was introduced to Daoud by one of the undercover employees as a cousin and operational terrorist living in New York, the affidavit said.
Daoud listed 29 possible targets on four handwritten pages from a notebook he showed the undercover agent at a meeting on August 6, including military recruiting centers, bars, malls and other Chicago-area tourist attractions, the affidavit said.
"Early in their conversation, Daoud emphasized that any attack they committed needed to be recognized as a 'terrorist attack,'" the affidavit states about the early August meeting.
He told the undercover agent at a meeting on August 23 that he had selected the bar targeted on Friday, the affidavit said. They met again in early September and then on Thursday viewed the green Jeep Cherokee with the inert explosive device at a storage unit in Bellwood, Illinois.
On Friday, Daoud met with the undercover agent in a Chicago suburb, and he led a prayer that the attack would succeed in killing many people as they drove the agent's vehicle to downtown Chicago, the affidavit said.
In downtown Chicago, Daoud picked up the Jeep that contained the purported explosives from a parking lot and drove it to the targeted bar, the affidavit said. They did not identify the bar.
Daoud walked to an alley about a block from the bar and tried to set off the device in the agent's presence before FBI agents arrested him, the affidavit said.
The case is not the first in which undercover agents have been used to gather evidence of suspected plots.
Four self-described anarchists have pleaded guilty to plotting to blow up a four-lane highway bridge near Cleveland in April and a fifth suspect is undergoing competency testing.
An undercover FBI agent sold the men inoperable detonators and plastic explosives, which they placed at the base of the bridge. Authorities said the five men had no ties to foreign militant groups.
A Moroccan man pleaded guilty in June to attempting a suicide bombing of the U.S. Capitol building in Washington in February. An undercover agent drove the suspect on the day of that planned attack.
Authorities also used undercover officers to gather evidence at the Chicago summit of the NATO military alliance in May. Three men described as anarchists were arrested then and accused of attempting to make Molotov cocktails to hurl at police.
Daoud had an initial appearance on Saturday before U.S. Magistrate Judge Arlander Keys in federal court in Chicago. He is being held pending a detention and preliminary hearing that is scheduled for 3 p.m. Monday.
Daoud faces up to life in prison if convicted of attempted use of a weapon of mass destruction. The second charge calls for a sentence of from five to 20 years.
Reuters