Analysis: Keeping the Lid on Lebanon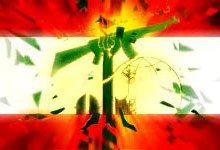 The news that the European Union is again debating whether to put Hezbollah, Lebanon's dominant political and military force, on its terrorist list is deeply worrying. The move, which reflects growing international pressure on Hezbollah following a recent intensification of U.S. sanctions — risks disturbing the fragile country's uneasy peace.
For 18 months Lebanon has largely succeeded in shielding itself from Syria's unfolding civil war. True, Lebanon has been racked by bouts of violence and deepening political polarization between pro- and anti-Assad supporters, but this has not triggered a broader eruption. The restraint exercised by all political forces — but particularly Hezbollah — has been central to this resilience.
To the surprise of many, Hezbollah, which is backed by Syria and Iran and maintains its own non-state militia, has not gone on the offensive to safeguard its position as regional fault lines shift, nor has it contested the unprecedented arrest of close political allies by its political opponents, the pro-Western, Sunni-dominated March 14 bloc. Instead it has played a stabilizing role, supporting calls for political consensus and urging calm while keeping its fighters off the streets, even as others have taken up arms.
Hezbollah's actions reflect self-interest as much as national benevolence; its political allies control the government and it wants to maintain its institutional strength. Still, the group's behavior has been critical to keeping the calm.
Equally, despite its close alliance with President Bashar al-Assad of Syria, Hezbollah appears to have exercised moderation in offering armed support for his regime's brutal crackdown. While the longstanding relationship between the two makes some assistance almost inevitable, there are no indications that Hezbollah has moved significant arms or personnel Assad's way.
Europe's willingness to date to resist U.S. and Israeli pressure to place Hezbollah on its terrorism list and under a sanctions regime has been critical to maintaining the group's moderation and Lebanon's uneasy calm. European engagement has provided Hezbollah's leadership with reassurance that there will be political room for their group in the post-Assad era. This has been key to preventing a pre-emptive offensive by Hezbollah to secure its position, particularly given mounting international pressure against Iran and Syria, its two regional backers.
But European sanctions could change Hezbollah's strategic calculus in one fell swoop. Coming on the back of the new U.S. sanctions, Hezbollah would immediately feel considerably more threatened, raising the possibility of more violence. This would be devastating for Lebanon and threaten the outbreak of wider conflict that could drag the country into civil war. It would also likely play directly to Assad's advantage by giving Hezbollah no further reason to chart a middle course. Hezbollah would tie its own survival to that of Assad.
There is no doubt that Hezbollah needs to be held to account for its long history of terrorist activities and unwillingness to submit to the authority of the Lebanese state. European leaders may understandably want to take a stand should Hezbollah be proven complicit in the July killing of six people, including five Israeli tourists, in Bulgaria, but so far these charges are unsubstantiated.
However, it is imperative that European leaders consider the broader ramifications of changing tack on Hezbollah. If they want to protect Lebanon's fragile peace and prevent Syria's conflict from spiraling out of regional control, they must show restraint. Of course Europe should continue to raise the issue of Hezbollah maintaining its own militia and support for Assad. But a turn to confrontation may prove counterproductive.
Syria's historic ability to assert control over Lebanon is weakening. In this context Hezbollah, shorn of regional allies, may be forced to show greater restraint and deference to other political forces.
Over time it will also become much less tenable for Hezbollah's leaders to justify maintaining the group's militia. A move to disbanding this armed force would offer Lebanon an opportunity to strengthen its institutions and build an effective democracy. By seeking to corner Hezbollah now, Europe risks provoking a violent backlash that will threaten such possibilities.
NY Times