Pope's visit: Lebanon declares Sept.15 an official holiday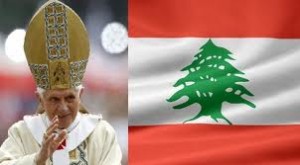 Lebanon Prime Minister Najib Mikati declared Saturday September 15 as an official holiday on the occasion of Pope Benedict XVI's visit to Lebanon.
"Saturday, September 15 is an official holiday and all public administrations, institutions and municipalities, as well as private and public schools and universities, will be closed for the pope's official visit," said a statement by the Prime Minister
He said the decision was made to allow the various sections of the population to take part in welcoming the pope.
Hundreds of thousands of people are expected to greet the pope when he arrives for a three-day visit next Friday.
Hezbollah welcomes Pope's visit
During a meeting with Maronite Patriarch Beshara Rai at his summer residence in Diman, Hezbollah MP Mohammad Raad welcomed Thursday the Pope's visit
"We expressed our complete readiness to welcome the pope and all Lebanese are looking forward to his visit," Raad said.
Commenting on his meeting with Patriarch Rai, Raad said:
"Our opinions are very close and Patriarch Rai always focuses on restoring calm and stability in the country … Such visits are meant to bolster stability in Lebanon "
Daily Star