Morsi tells Syria's Assad: Step down before it's too late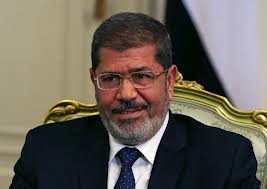 In his first speech to the League of Arab Nations, Egyptian President Mohamed Morsi on Wednesday told Syrian leader Bashar Assad to learn from recent history and step down immediately "before it's too late."
Addressing Arab foreign ministers in Cairo, the Islamist president urged them to make Syria their first priority.
The address was Morsi's first key foreign policy speech since he was elected two months ago following the uprising that deposed Hosni Mubarak last year. In the Middle East, his comments were perceived as a tenacious effort to assert the country's influence in the region.
"Our Syrian brethren are dear to us all and Syria is in our hearts. I repeat what I said in Mecca and Tehran: The blood of the Syrian people is on all of our necks," he told 21 members of the Arab League, excluding Syria, whose membership was suspended in November.
Morsi said Egypt would support the Syrian people's struggle for freedom without interfering in the country's internal affairs.
He also said that foreign intervention in Syria would not be welcomed. The comment was seen as directed at Iran, whose leaders have previously expressed support for the Syrian regime. The Assad family, which has ruled Syria for four decades, are Alawites, an offshoot of the Shiite Muslim faith that predominates in Iran.
"There is still a chance to stop the spilling of blood before it's too late," Morsi said. "This is not a time for arrogance. The Syrian people have said their word, it's time to give them their demanded change now."
Morsi added that a group of regional states comprised of Iran, Saudi Arabia, Turkey and Egypt would meet to discuss the Syrian crisis.
In November, Arab League members voted to suspend and impose sanctions on Syria after its failure to end government violence against protesters. The move came after Syria, a founding member of the Arab League, refused to allow a 500-member team to observe and analyze the situation on the ground.
Since the Syrian uprising against Assad's regime began, the United Nations estimated that 20,000 people have been killed in less than 18 months.
Although Morsi stressed the need for Arab unity to end the violence in Syria, he made no mention of the human rights situation in Bahrain, where Saudi Arabia and other Sunni Muslim nations have supported the monarchy in its crackdown against pro-democracy protesters who include Shiites.
Many Egyptian activists and international observers have berated Egypt for failing to address Bahrain's uprising, which human rights advocates say has been met with excessive violence by government officials.
"Egypt's Morsi will not mention Bahrain. Think Saudi Arabia. Think Qatar. Think Egypt's economy," Ed Husain, a senior fellow at the Council on Foreign Relations, said on Twitter after Morsi's speech at the Arab League.
Egypt, a predominantly Sunni country, has always enjoyed close relations with Saudi Arabia and relies heavily on the kingdom for economic aid and investments.
When Morsi was elected in late June, his first international visit was to Saudi Arabia. As Egypt moves to rebuild its staggering economy, a high-ranking business delegation from the Saudi Arabia is due in Egypt next month to explore bolstering economic ties and investments.
In his speech to the Arab delegates Wednesday, the Egyptian president also said "the Palestinian cause remains the first cause for the Arab world."
"We need a just and inclusive solution for the Palestinian issue, we all need this as Arabs," he reiterated as he put his hand to his heart, a gesture of sincerity in Middle Eastern culture.
LA Times